Qurez
Regular price
Rs. 599.00
Sale price
Rs. 599.00
Unit price
per
Sale
Sold out
Share
View full details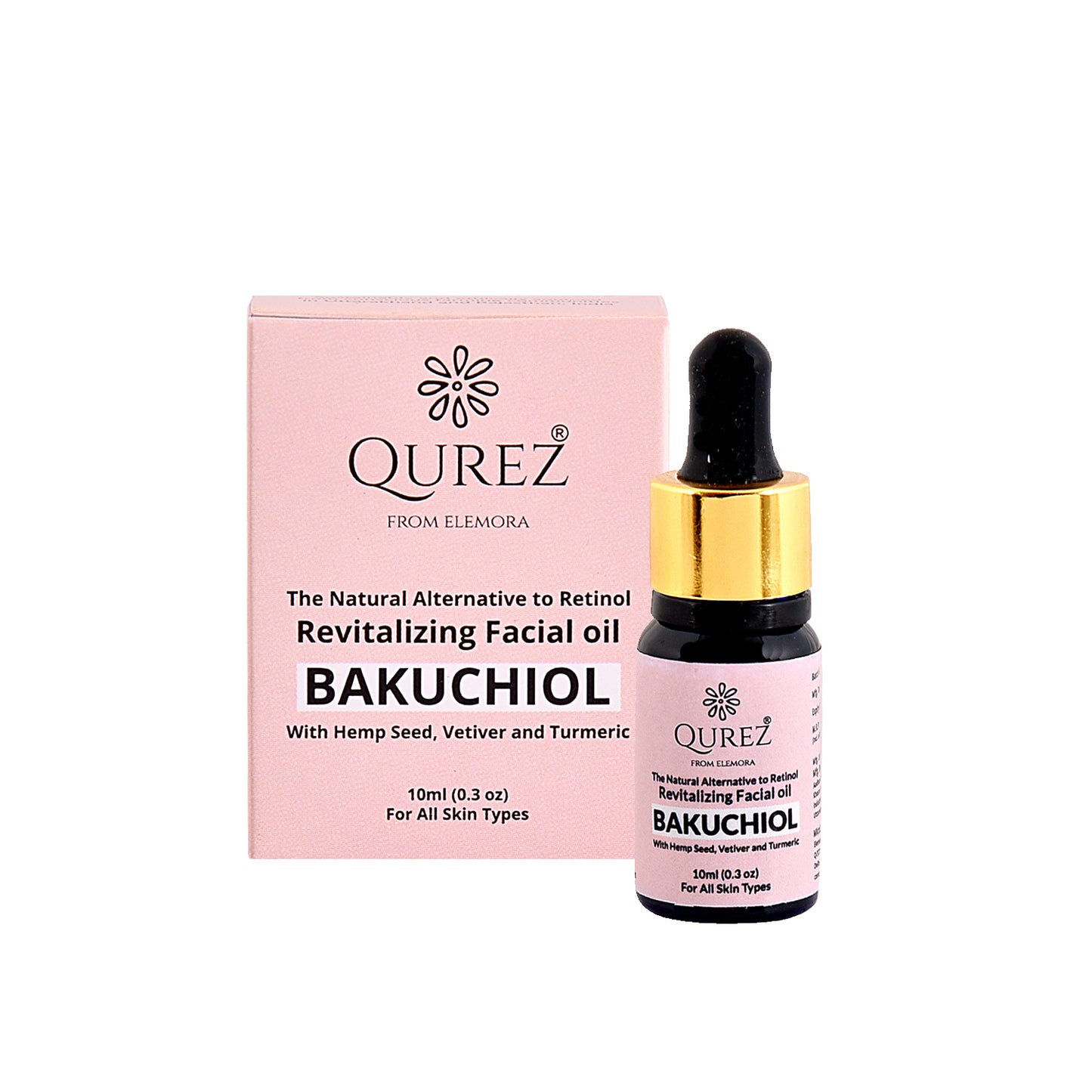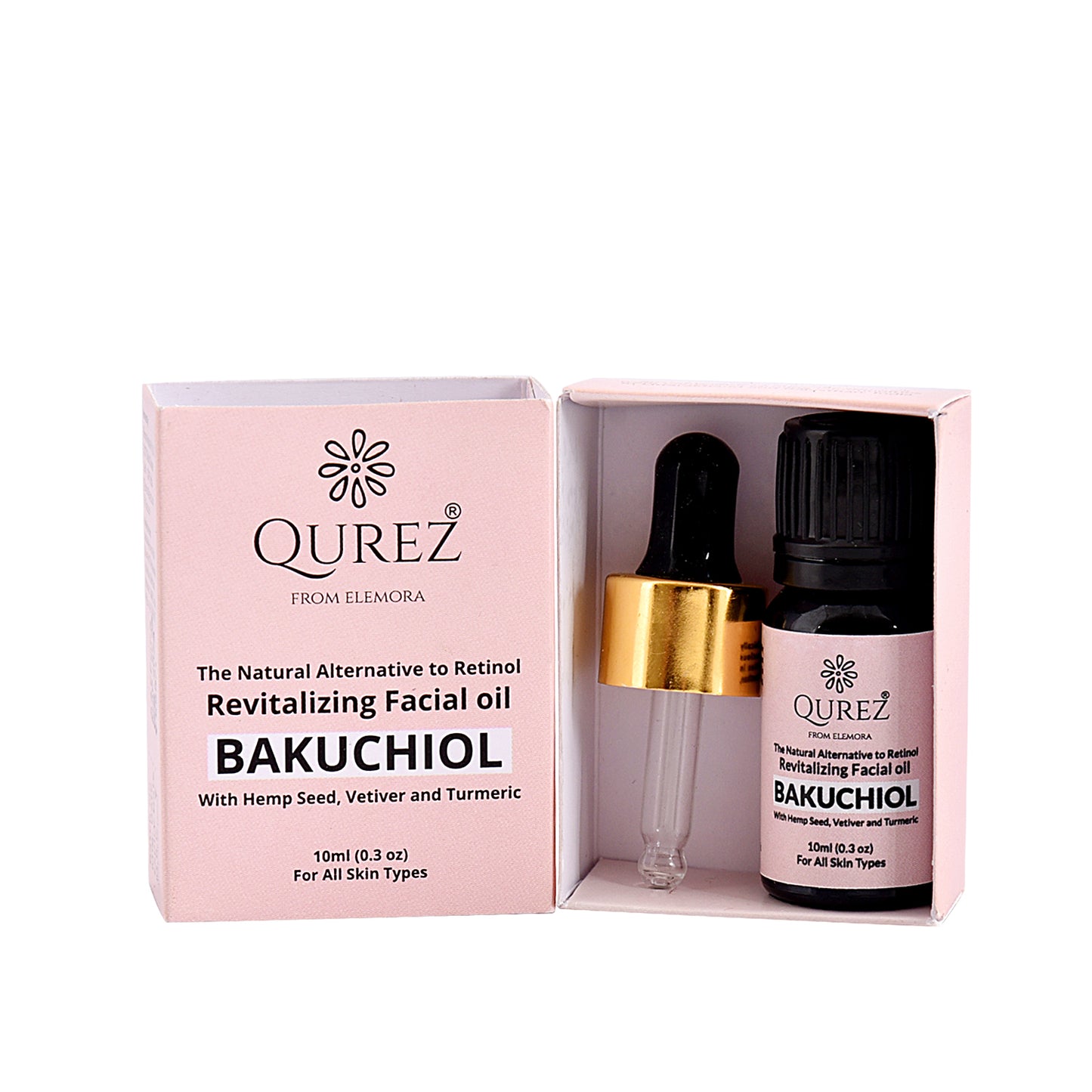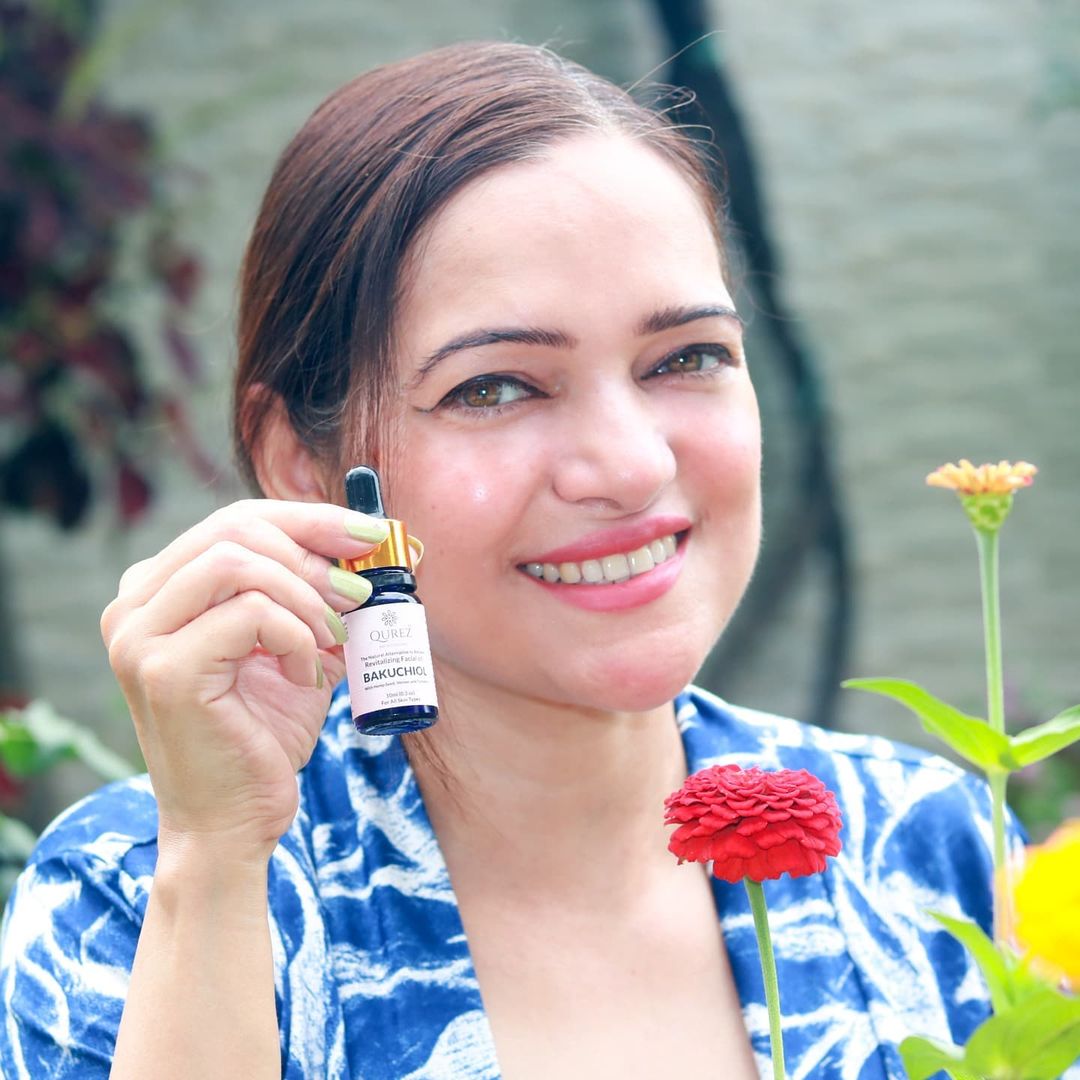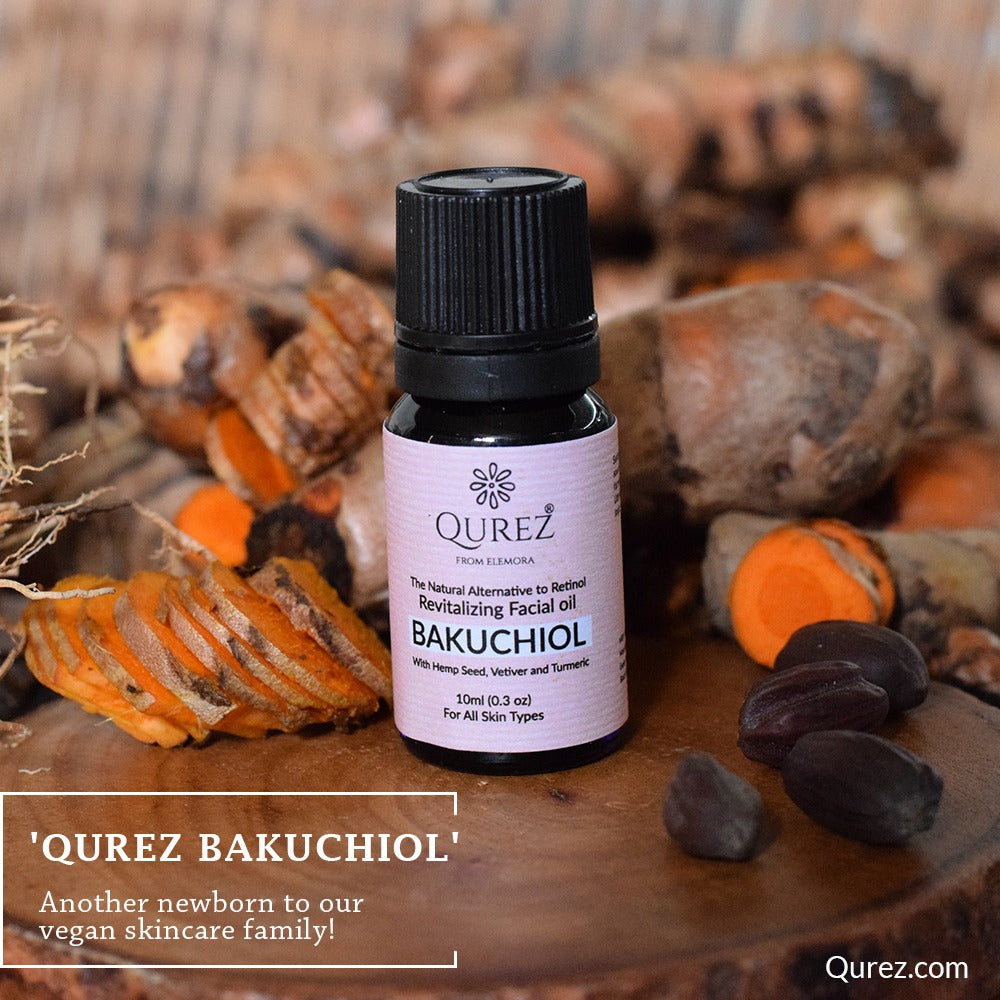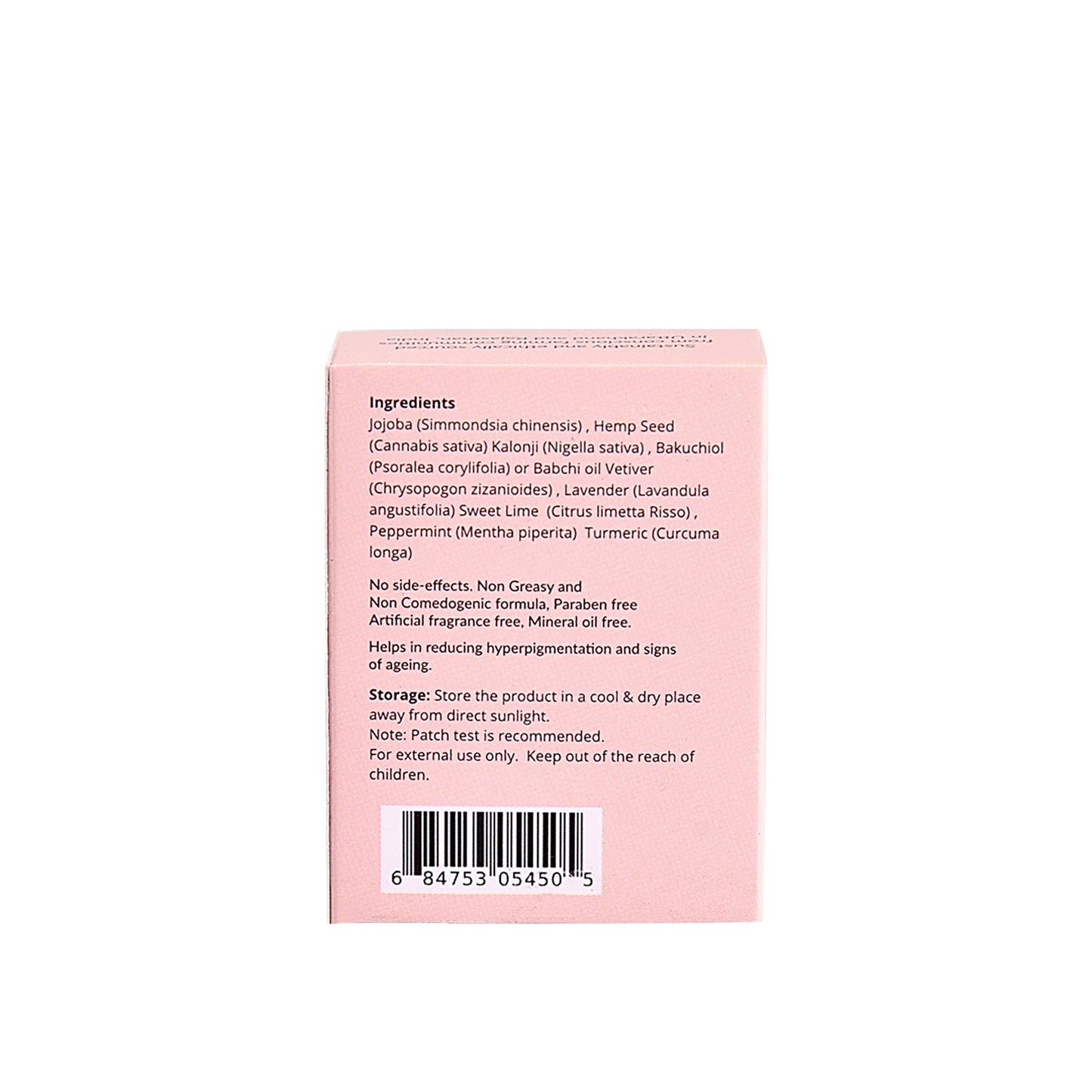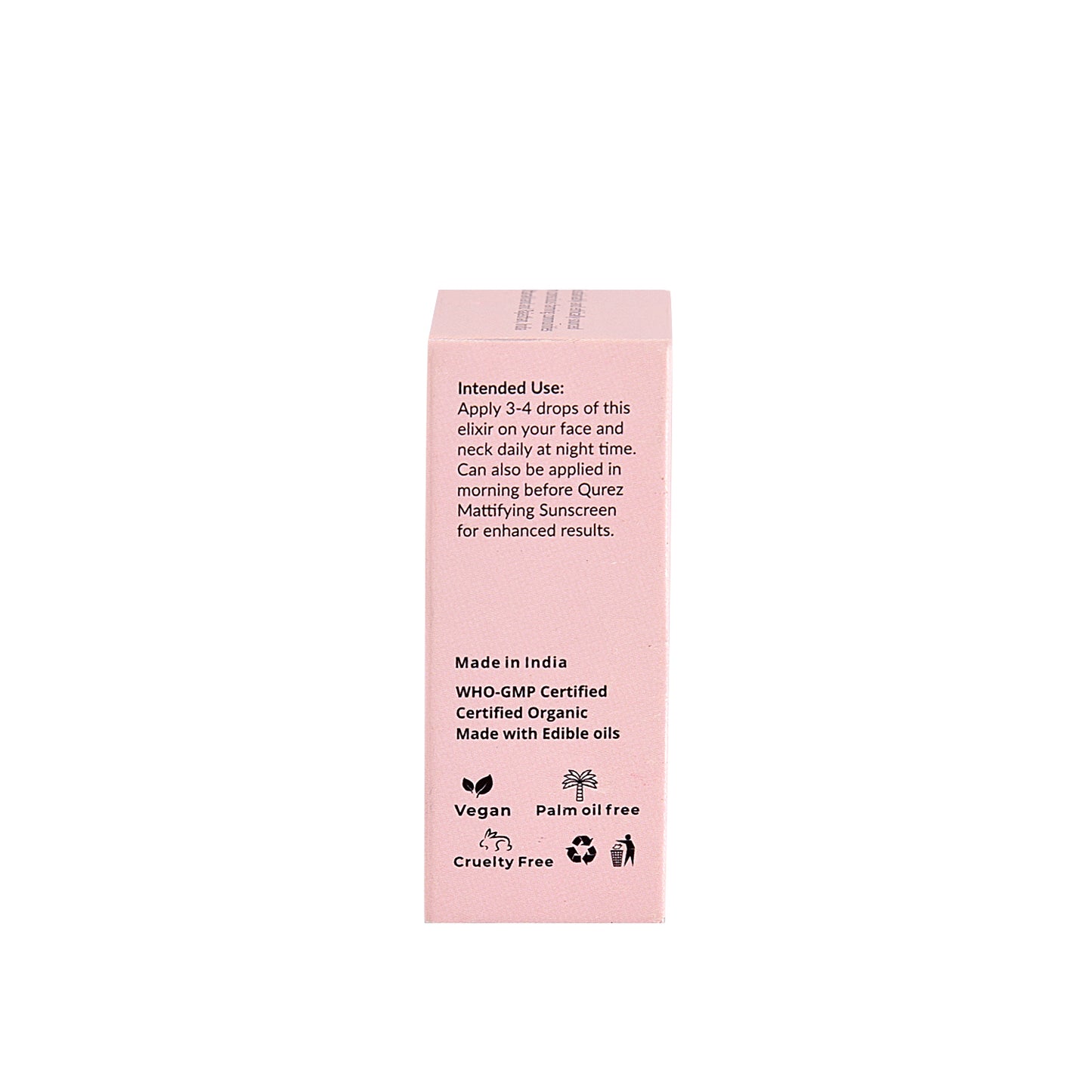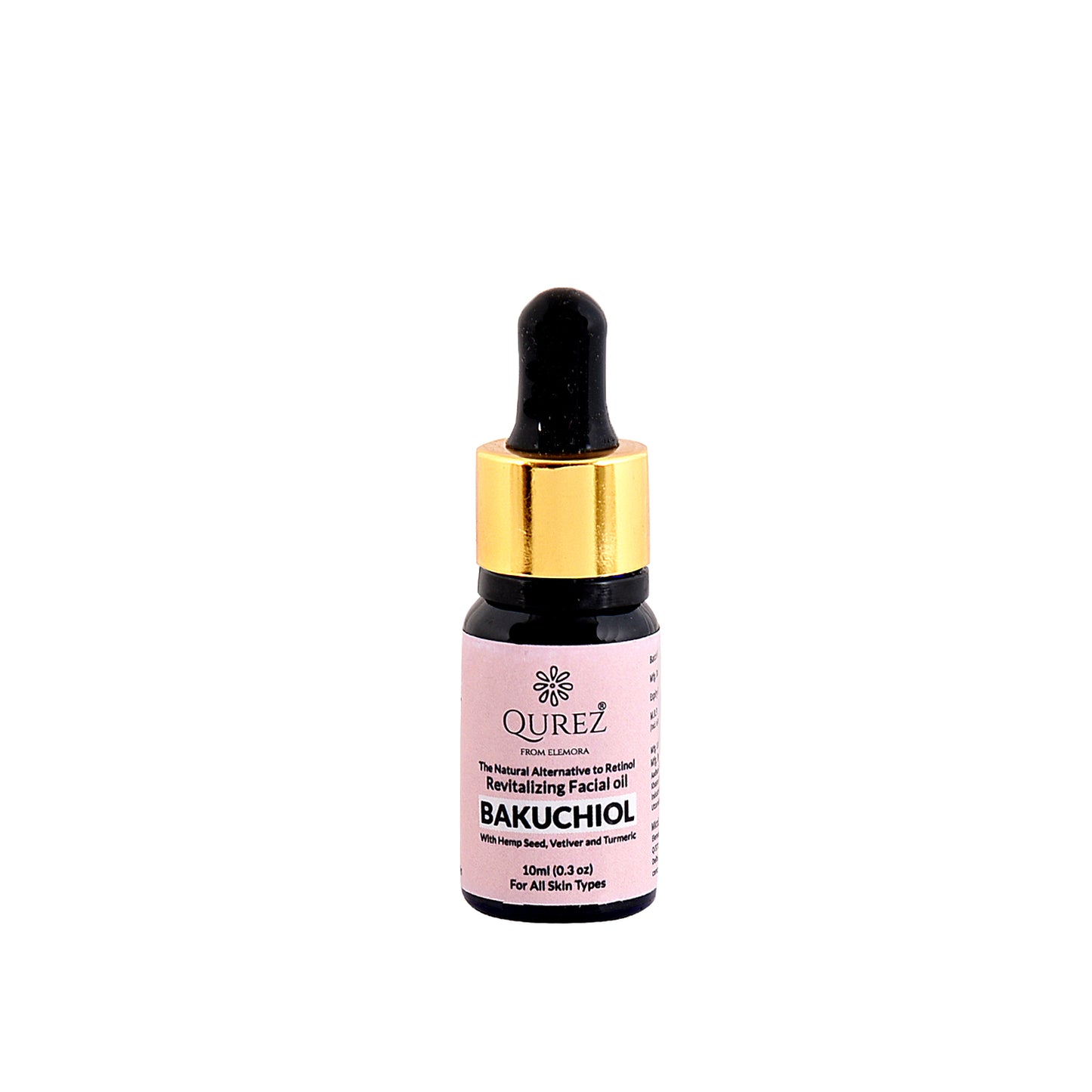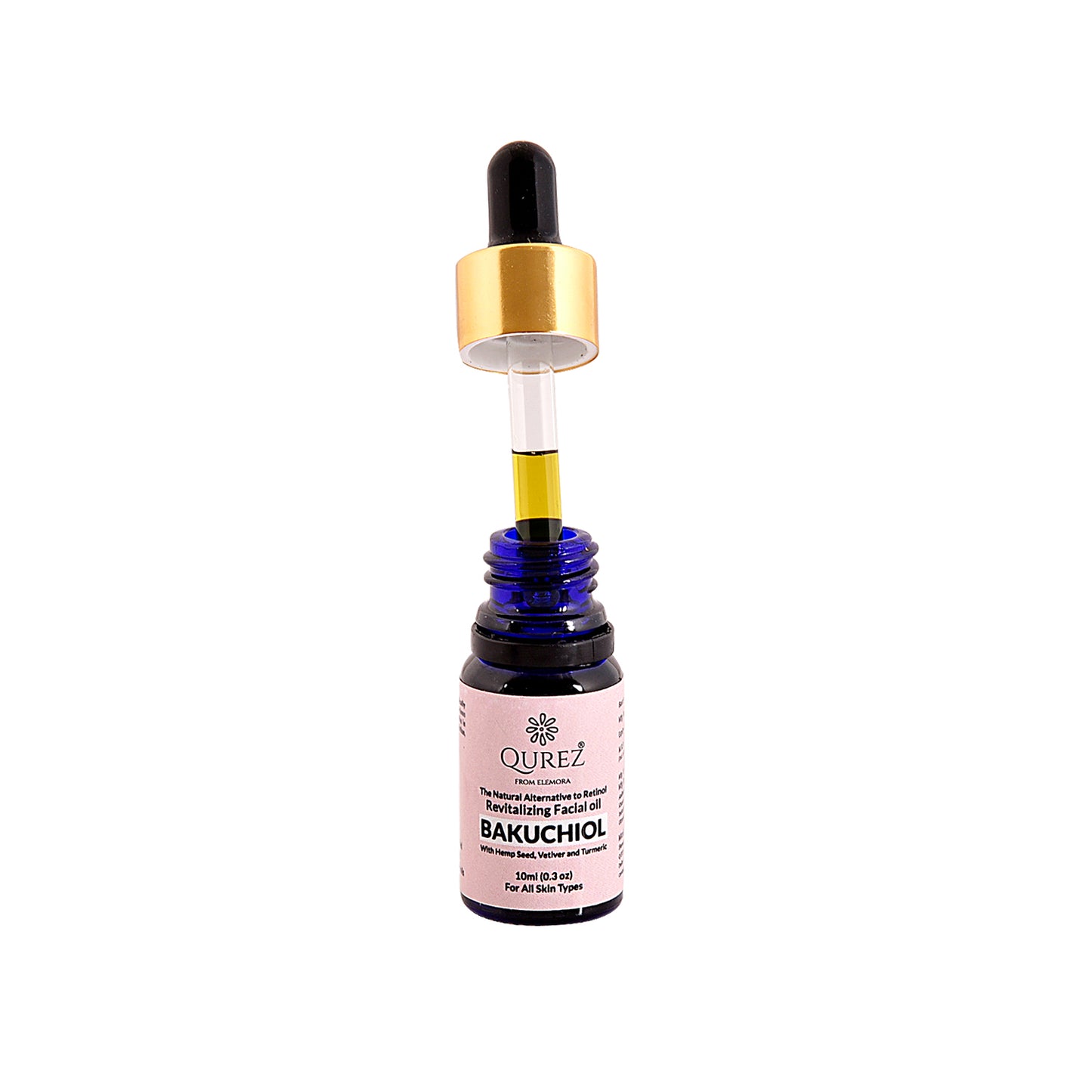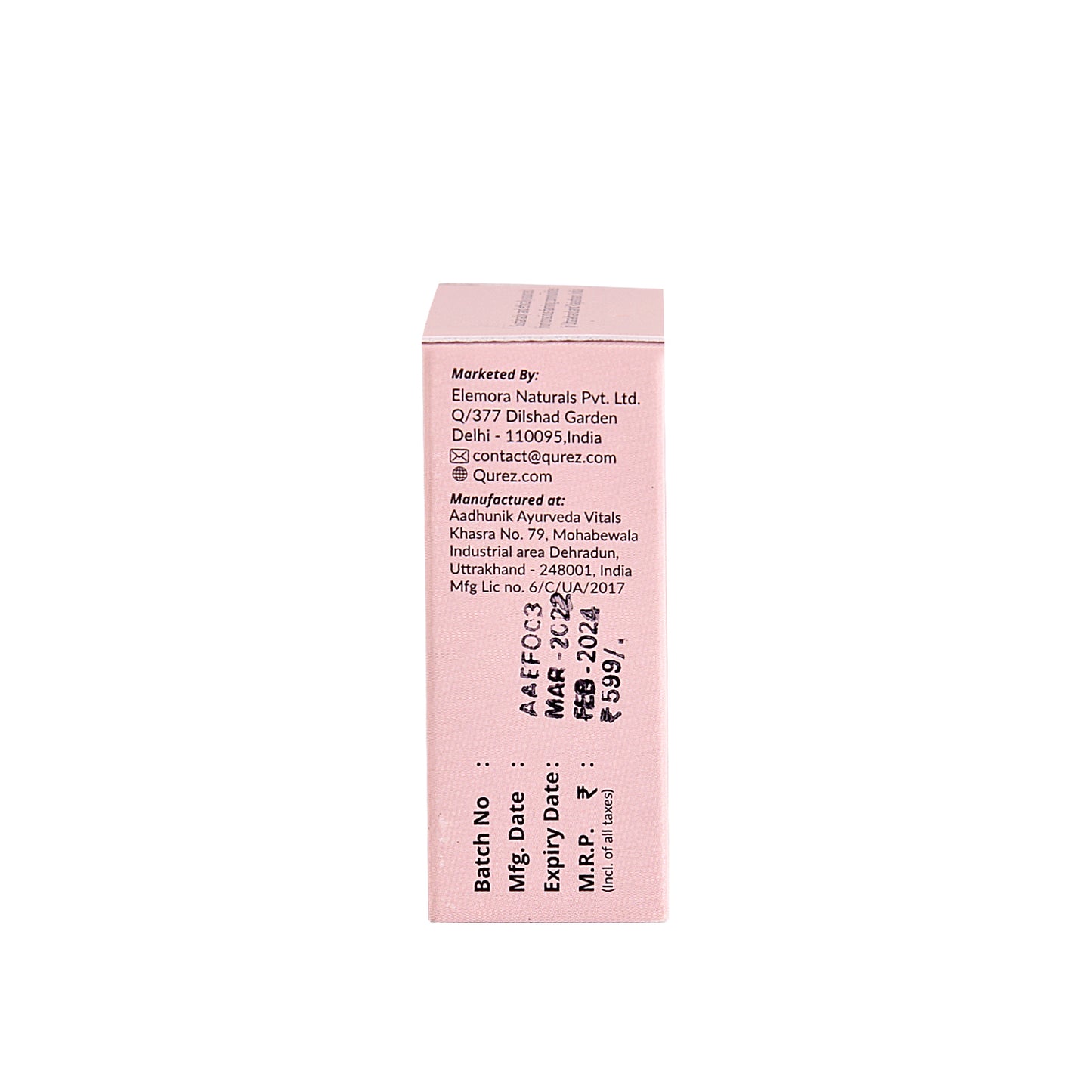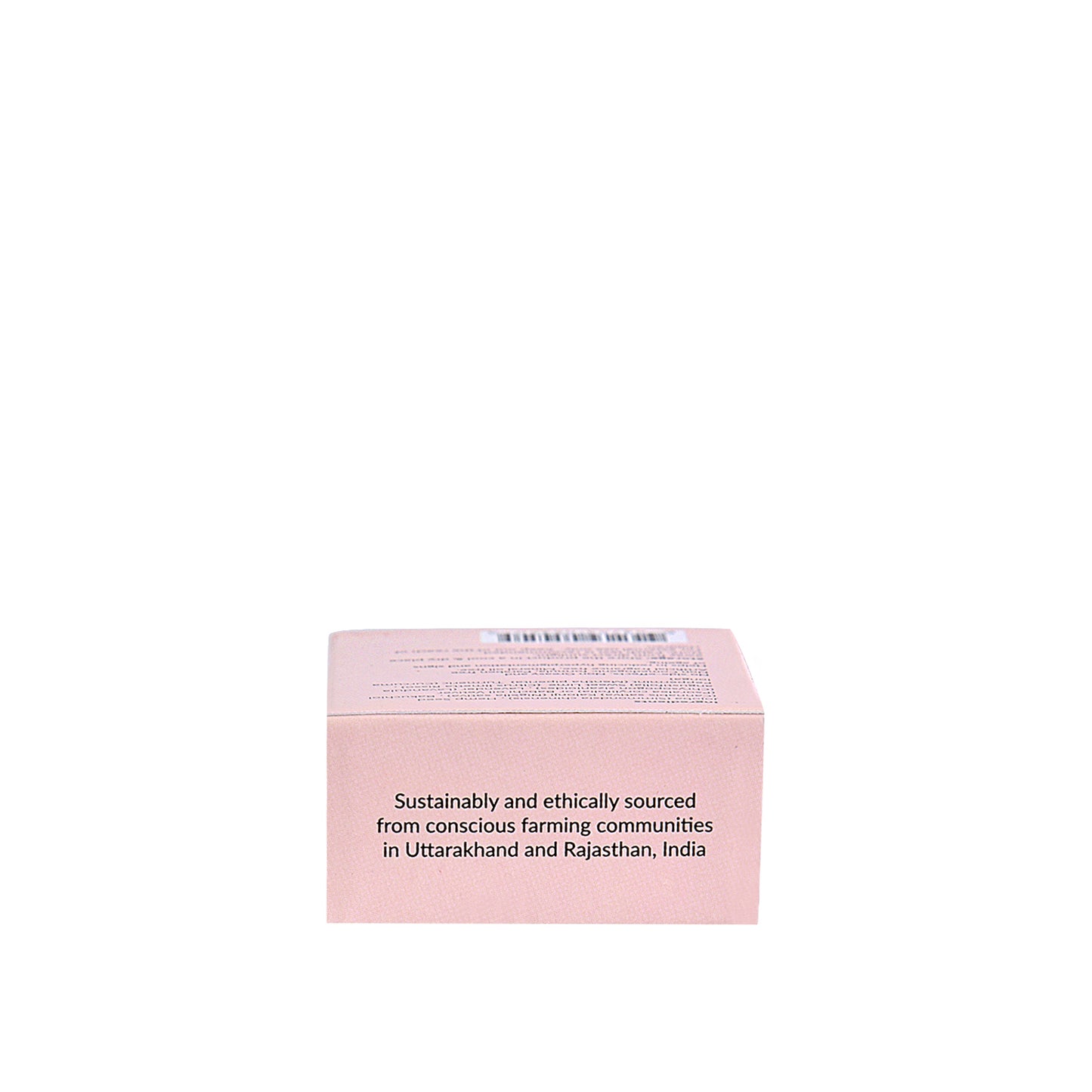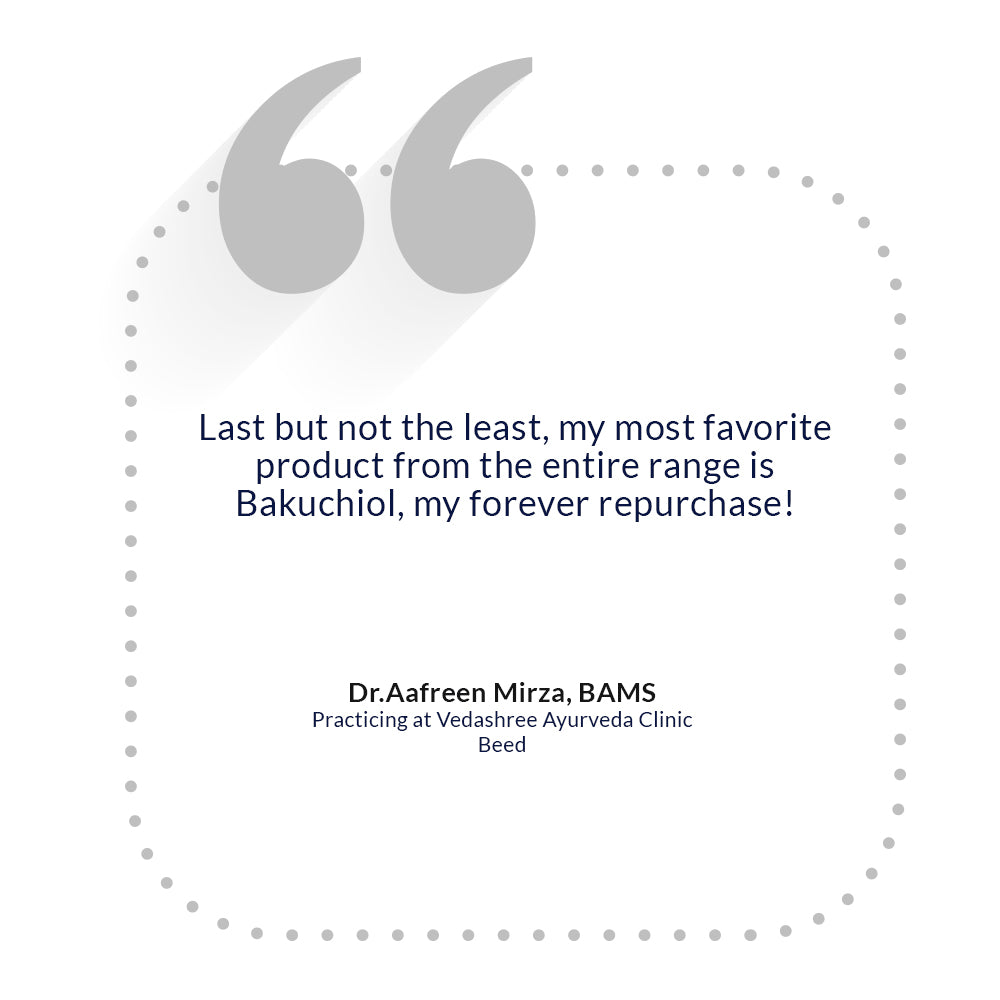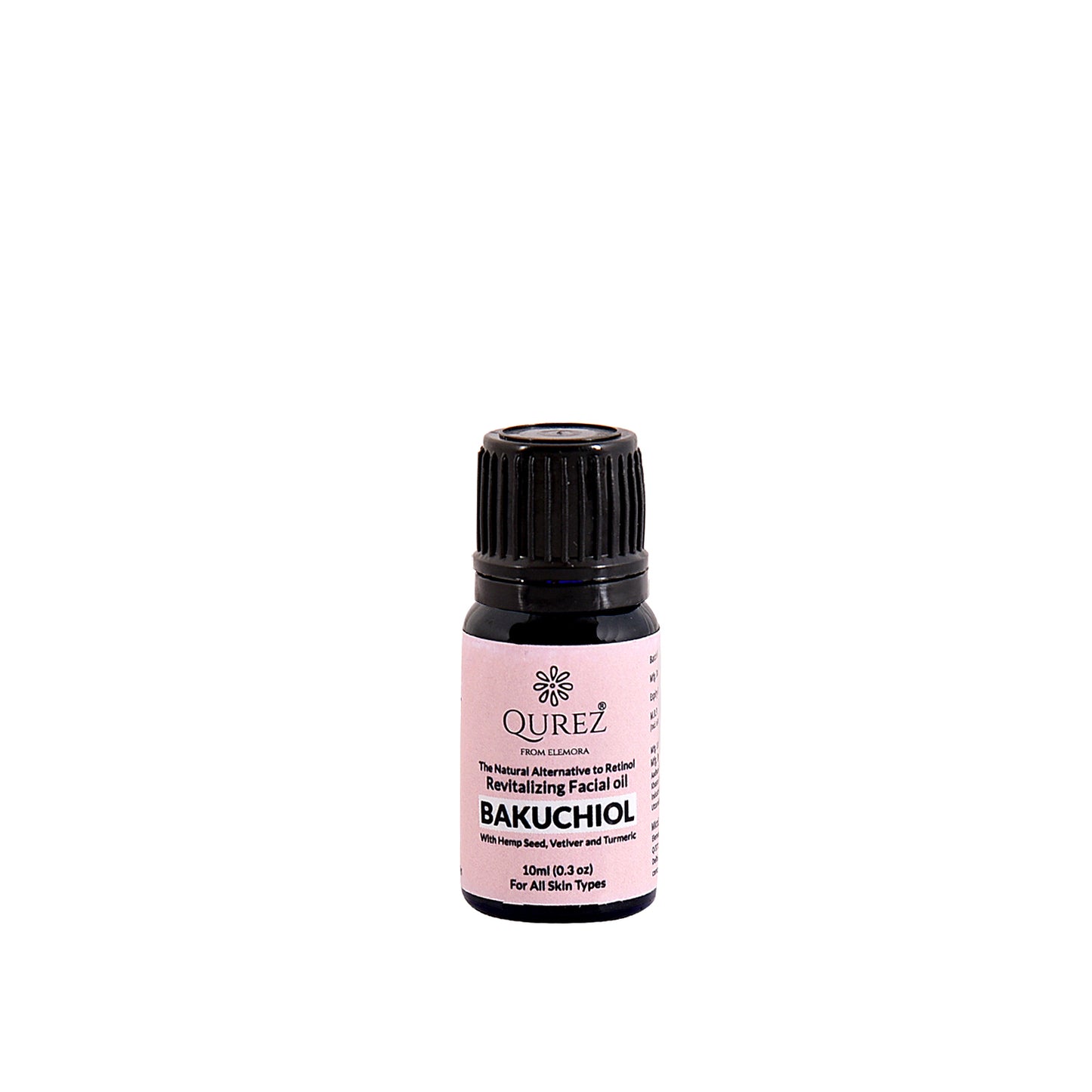 Collapsible content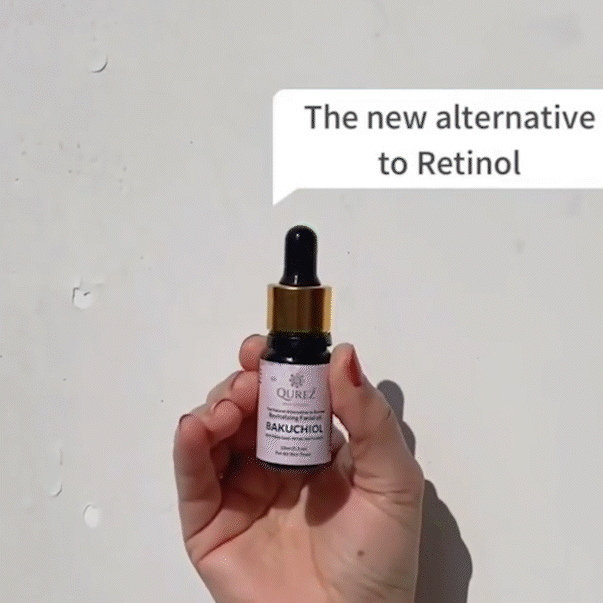 What's in it for my Skin

Fights ageing signs like, fine lines and wrinkles
Helps in diminishing hyper-pigmentation
Fights acne, minimizes blackheads, whiteheads and large skin pores
Evens out skin tone
Improves skin firmness, skin elasticity and boosts collagen in the skin
Moisturizes skin pores without clogging it
Highlights

Qurez Bakuchiol is a natural alternative to Retinol
It's a blend of 9 pure oils so much so that it is edible
Bakuchiol is believed to make your skin healthy without any skin irritation
Pregnant and lactating women can also use this facial oil
Non-greasy & non-comedogenic
High in anti-inflammatory, anti-bacterial, anti-ageing and anti-oxidant properties
Suitable for all skin type
Artificial fragrance free. Paraben free. Phthalate free
100% Vegan. Cruelty free. Made in India
The ingredients are sustainably and ethically sourced from conscious farming communities in Uttrakhand and Rajasthan, India
Qurez Bakuchiol packaging box is made from biodegradable seed paper which can be grown into a plant
Collapsible content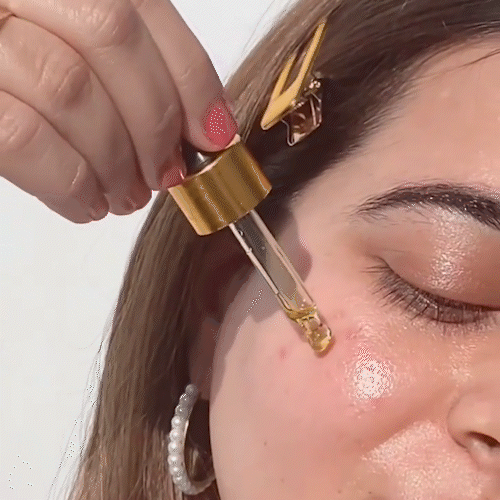 Product Description

Have you been thinking of trying Retinol for its anti aging properties? Retinol is famous for causing skin purging and irritating sensitive skin!

Qurez presents to you 'Bakuchiol' - A natural alternative to Retinol. This vegan plant is native to India and has many skincare benefits! It helps in diminishing fine lines and wrinkles, it helps in restoring skin elasticity and also termed as an acne-fighter. It's full of anti-inflammatory, anti-ageing, antioxidant and anti-bacterial properties!

The major advantage which Bakuchiol has over Retinol is its non-irritation factor! Retinol is said to irritate sensitive skin after application which is not found in the case of Bakuchiol.

Qurez Bakuchiol is sustainably and ethically sourced from conscious farming communities in Uttrakhand and Rajasthan, India.

How Do I use it

Take about 3-4 drops of Bakuchiol Massage it on your face and neck Use this elixir everyday at night or on selective days according to your skin needs If using in the morning follow up with Qurez sunscreen (*Apply Qurez Bakuchiol on a clean face)
Collapsible content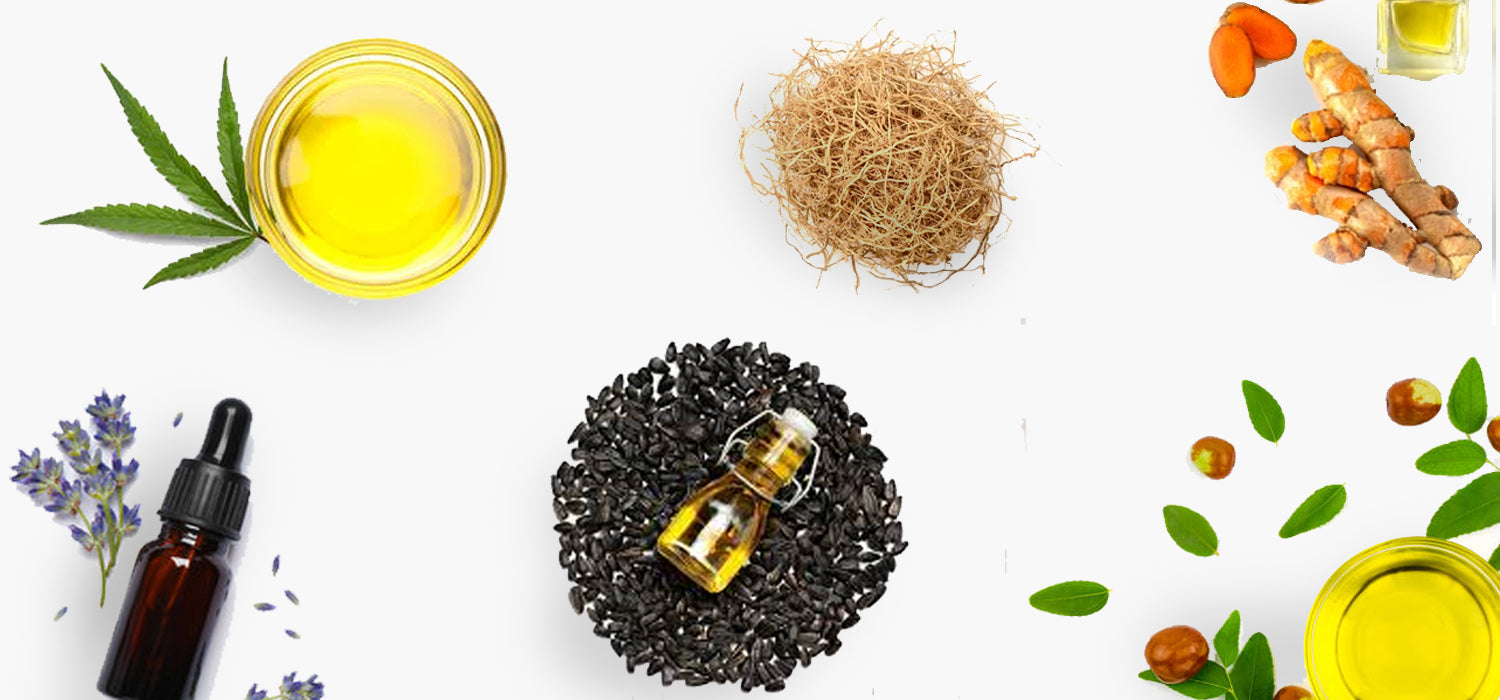 Star Ingredients

Bakuchiol (Psoralea corylifolia)

Moisturizes skin pores thereby preventing it from drying, flaking and itching




Hemp Seed oil (Cannabis sativa)

Full of anti-ageing properties, it helps in diminishing fine lines, wrinkles and slows down the skin ageing process




Vetiver essential oil (Chrysopogon zizanioides)

Has excellent anti-bacterial and anti-inflammatory properties thereby reducing acne breakouts




Turmeric essential oil (Curcuma longa)

Well known for its anit-bacterial properties, it helps in fading acne scars and other skin damages
Full Ingreidient list

Bakuchiol (Psoralea corylifolia) Jojoba oil (Simmondsia chinensis) Hemp seed oil (Cannabis sativa) Kalonji oil (Nigella sativa) Vetiver essential oil (Chrysopogon zizanioides) Lavender essential oil (Lavandula angustifolia) Sweet Lime essential oil (Citrus limetta Risso) Peppermint essential oil (Mentha piperita) Turmeric essential oil (Curcuma longa)
"I have been using this cream from about a month or so.it has a lotion like consistency and blends like a silk .it's a boon for oily skin beauties.it has niacinamide and HA which is hydrating and moisturizing. Totally a win win for me."
Paraben Free & Phthalate Free
Best oil
I have used this oil religiously and have seen major difference in my skin texture. Skin feels glowy and soft. Suitable for all skin type great alternative for retinols.
My everyday face oil
This Bakuchiol face oil has made my skin soo much better. Not at all sticky. Moiturizes my skin. I use it at night. Have helped a lot in sleeping better too. One should definitely try this.
Qurez Bakuchiol - Revitalizing Facial oil with Hempseed, Vetiver and Turmeric, 10 ml
Love the glow
Love how lightweight the oil and more so the after glow it leaves on the skin.
Excellent facial oil
I've never used oil on my face(oily sensitive skin) and I dreaded the idea but after reading reviews I thought i'll give it a go and to my utter amazement it actually smoothened and brightened my skin. Thoroughly impressed with their facial oil. It would've been nice if they had a customer care call service for queries. Nevertheless, they still responded to mails and online web chats. Thanks for a good service overall.