Qurez
Regular price
Rs. 499.00
Sale price
Rs. 499.00
Unit price
per
Sale
Sold out
Share
View full details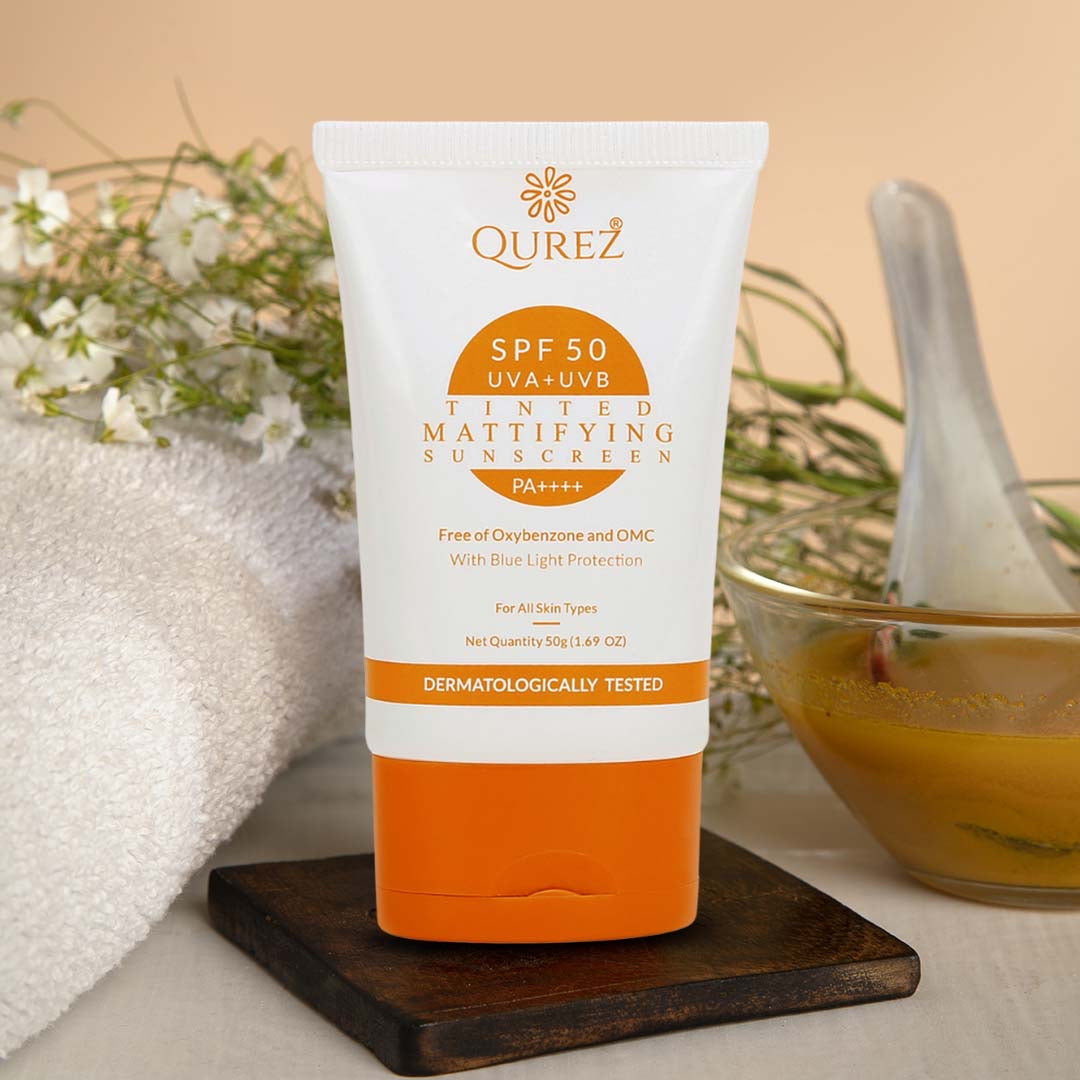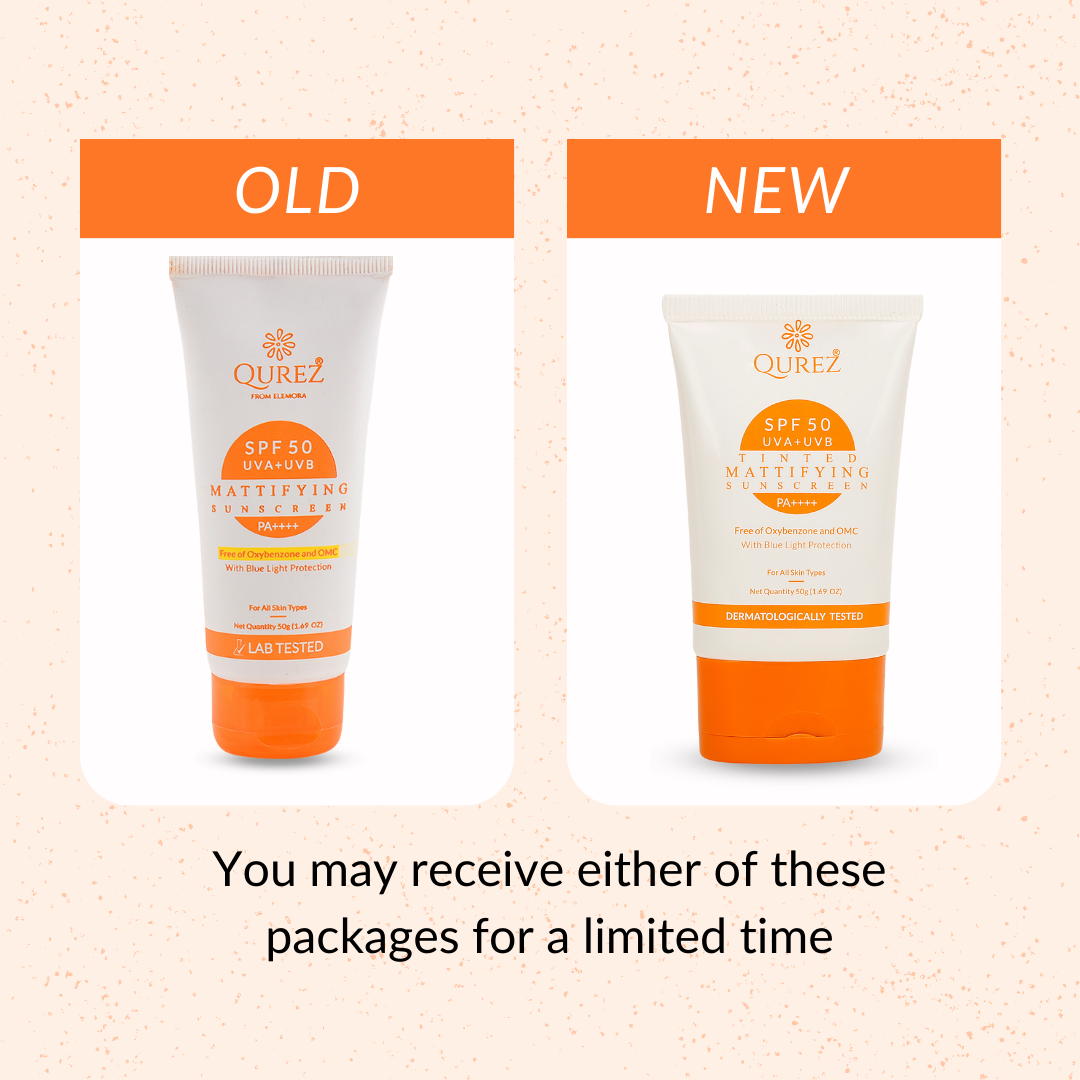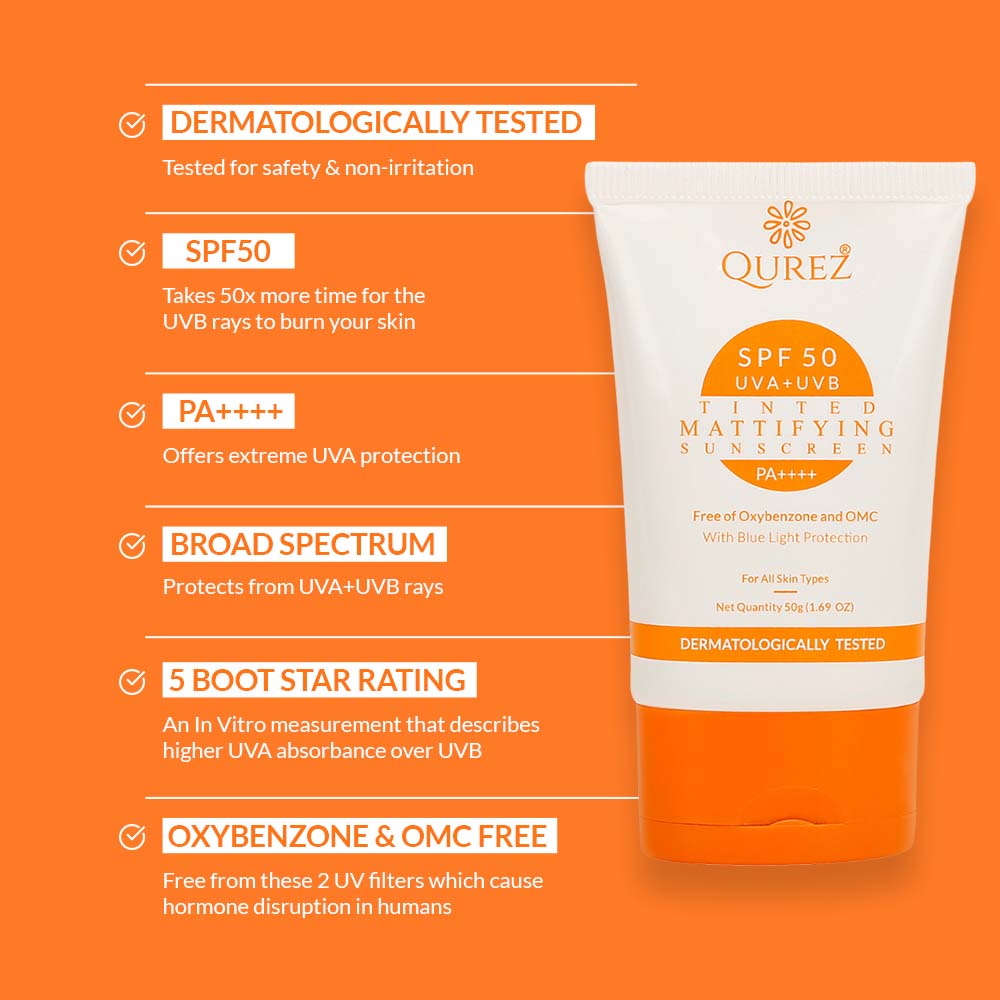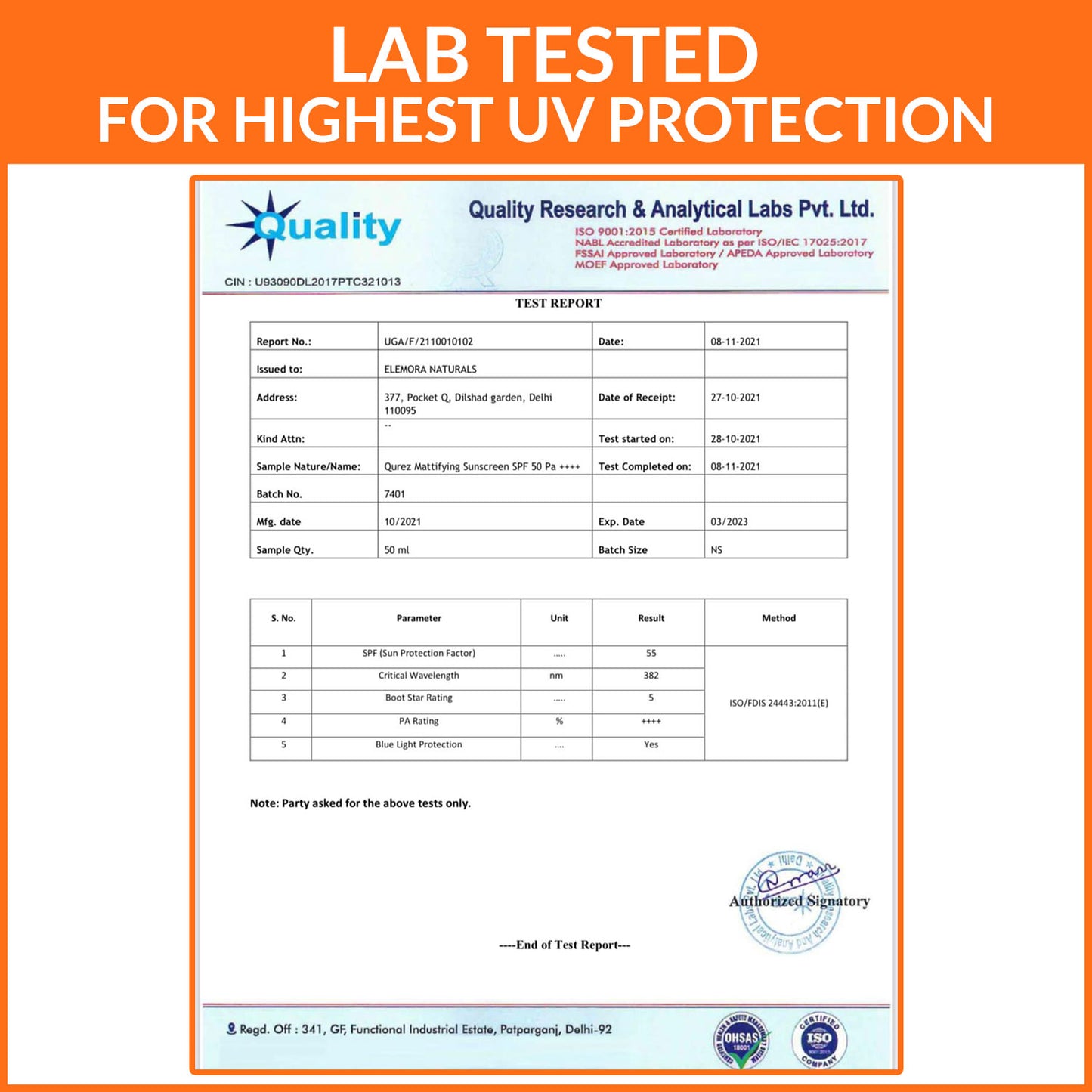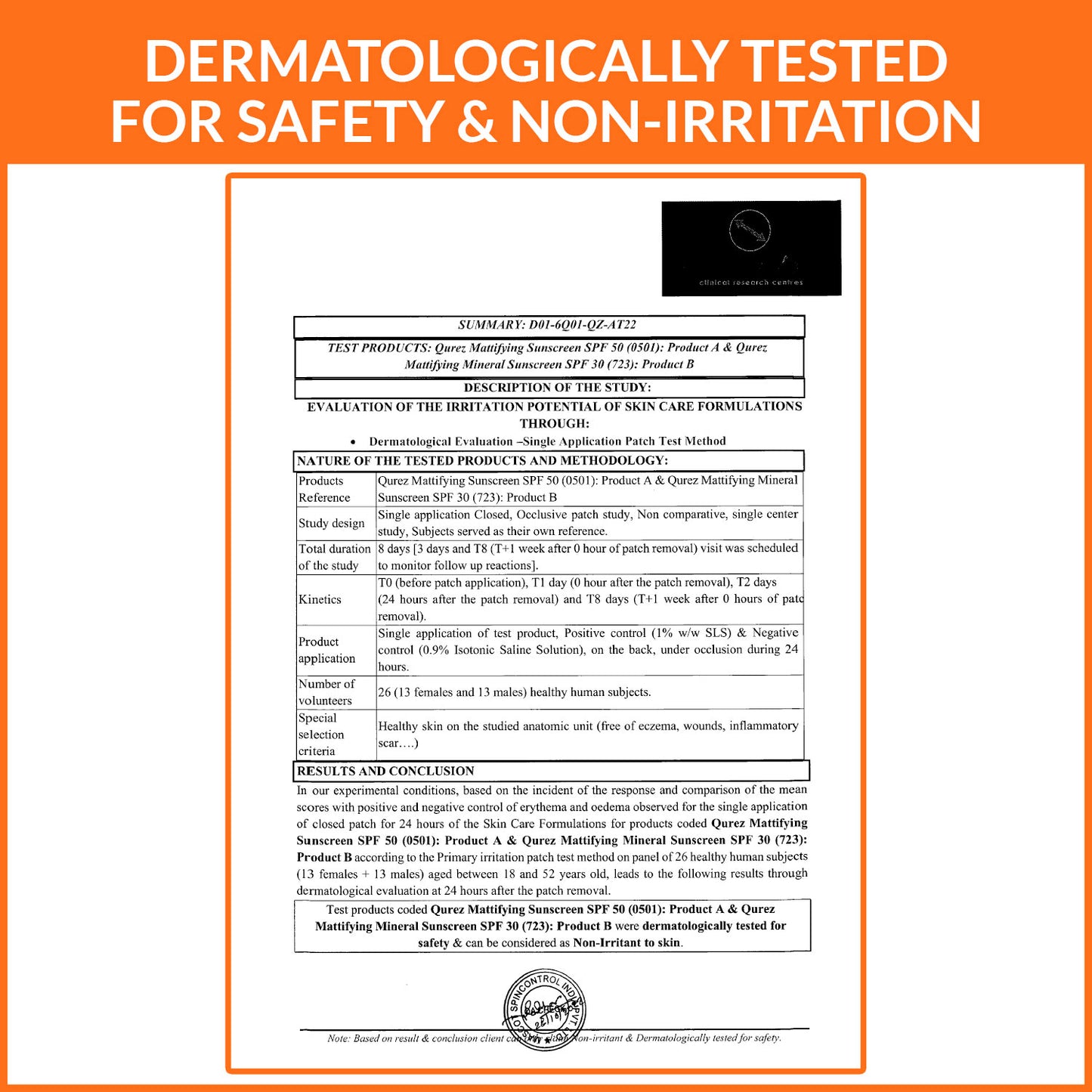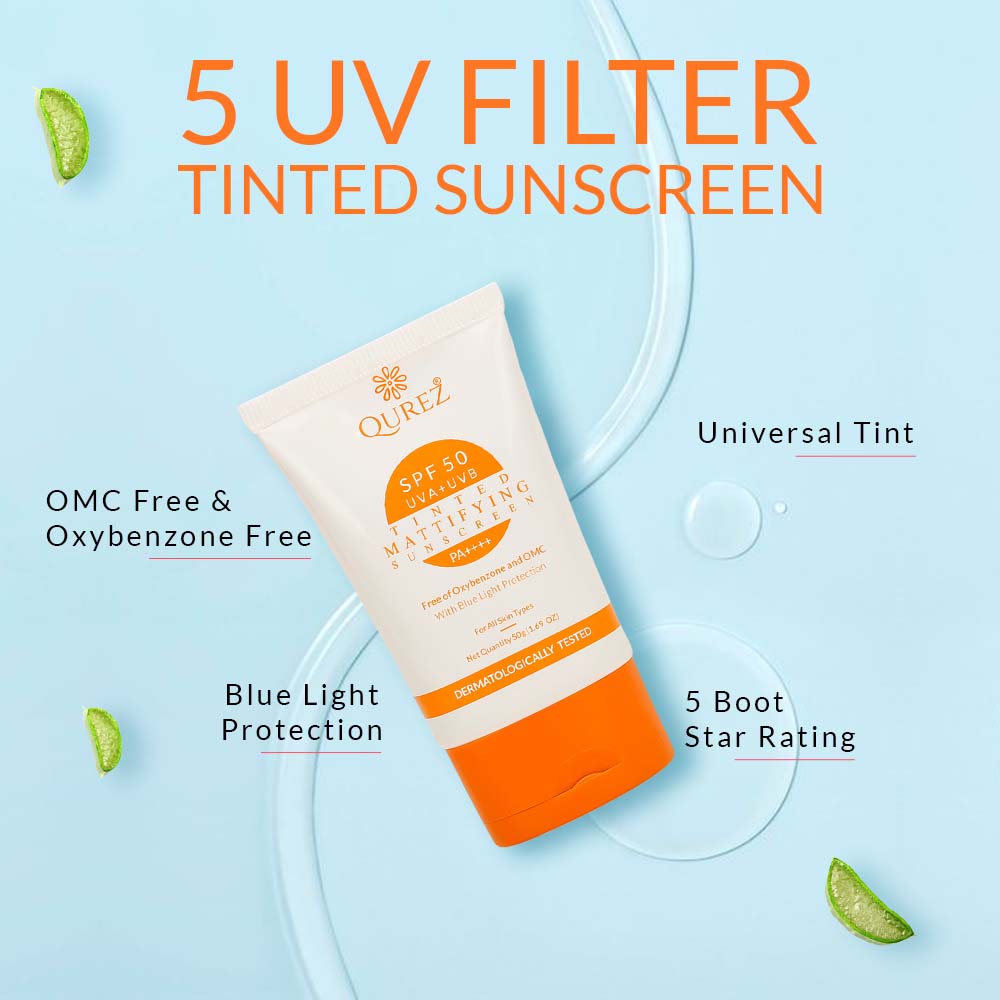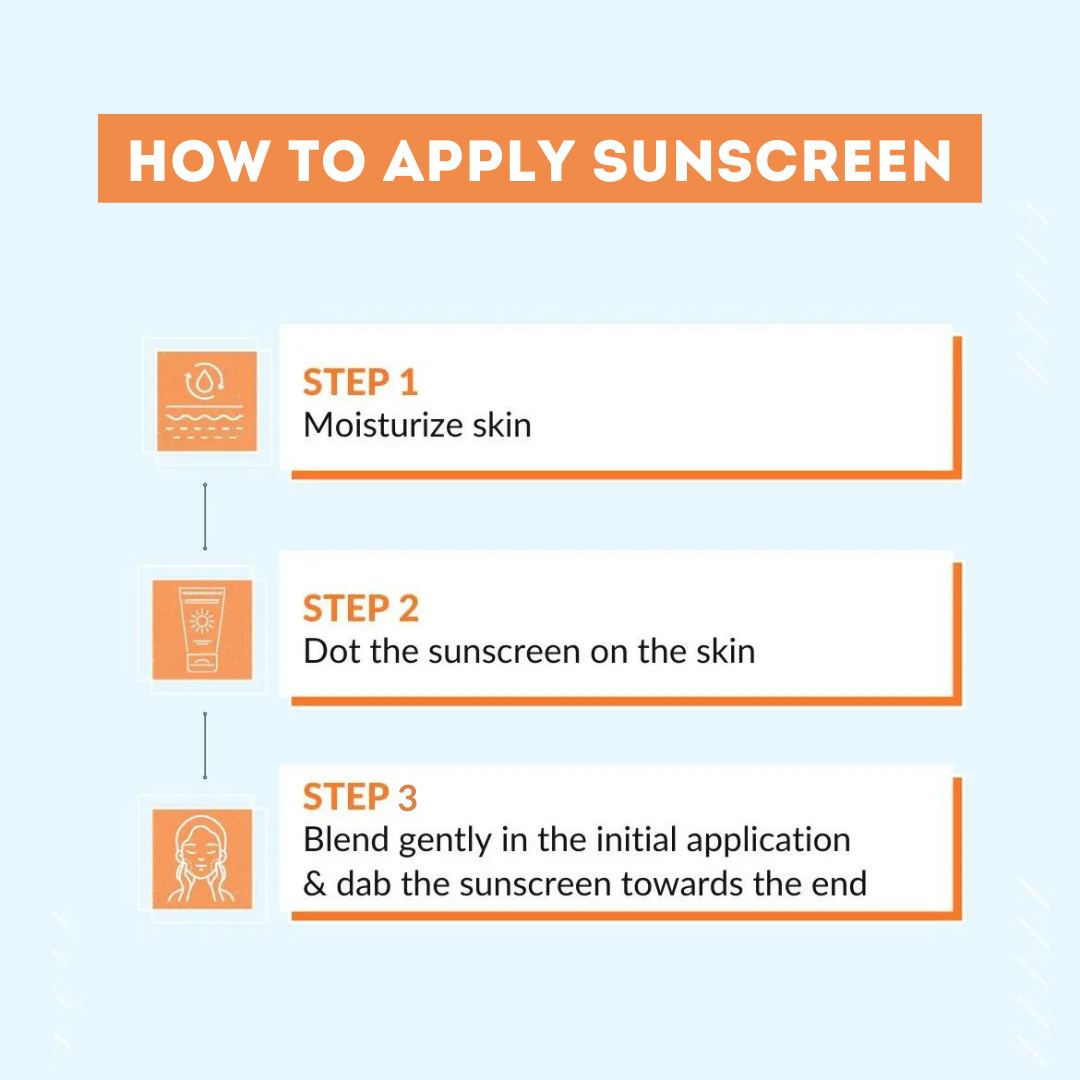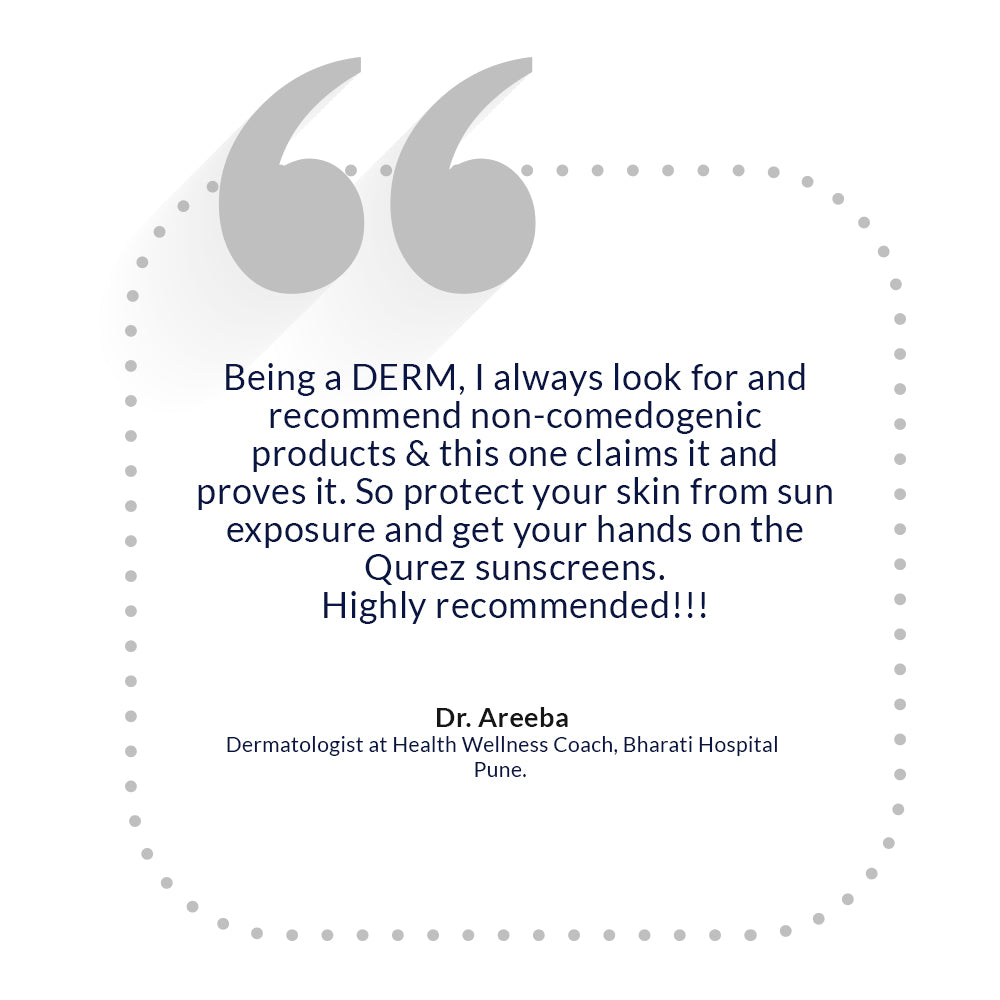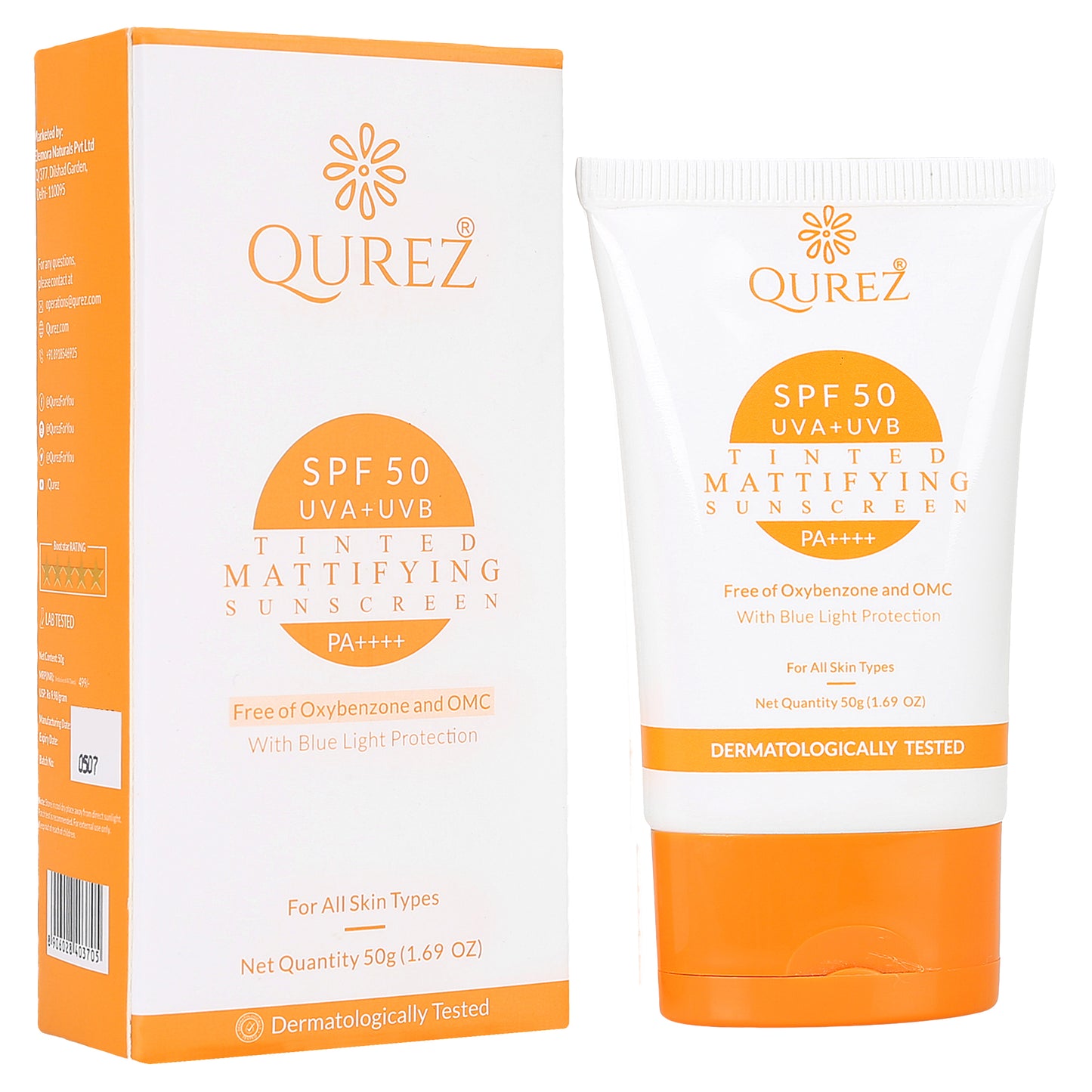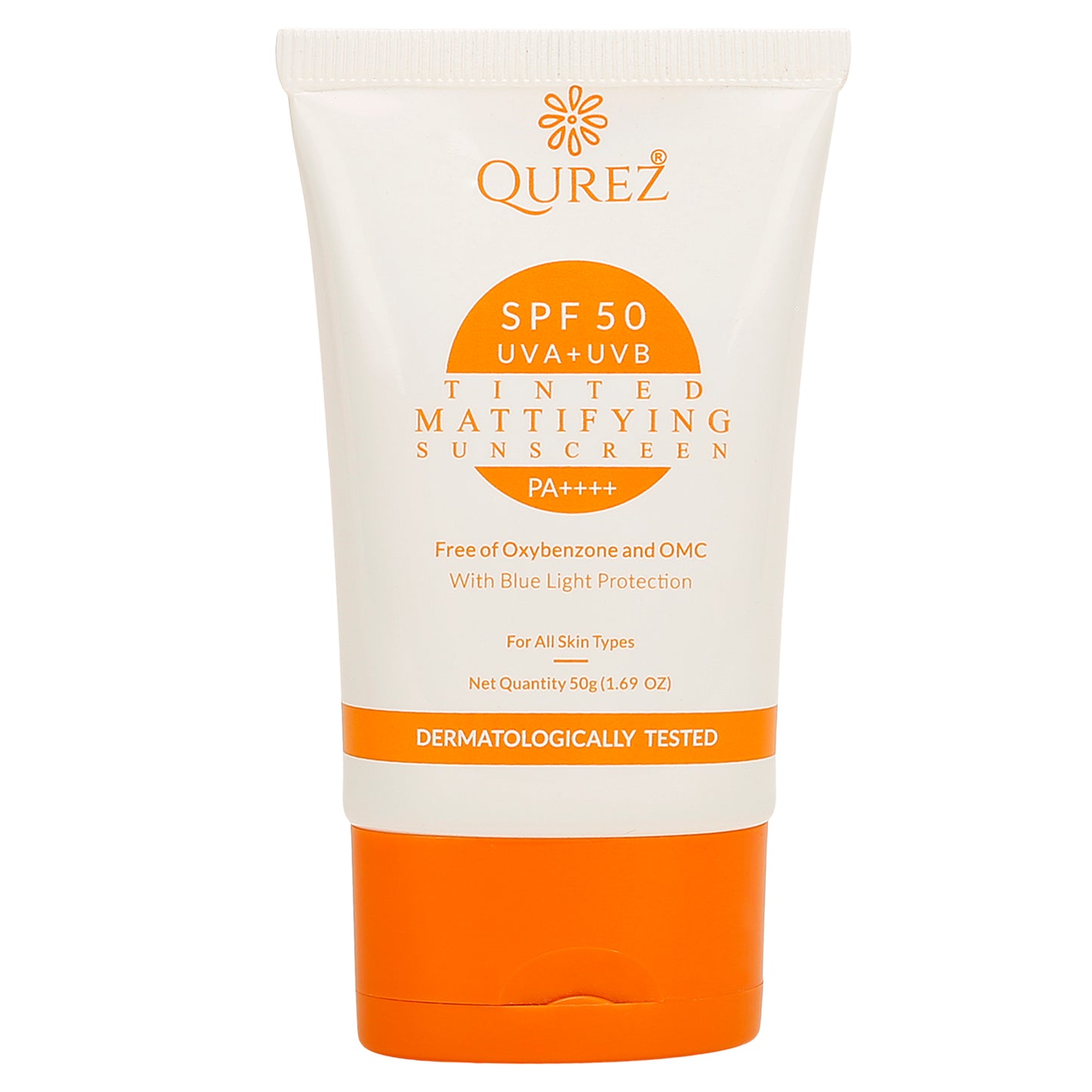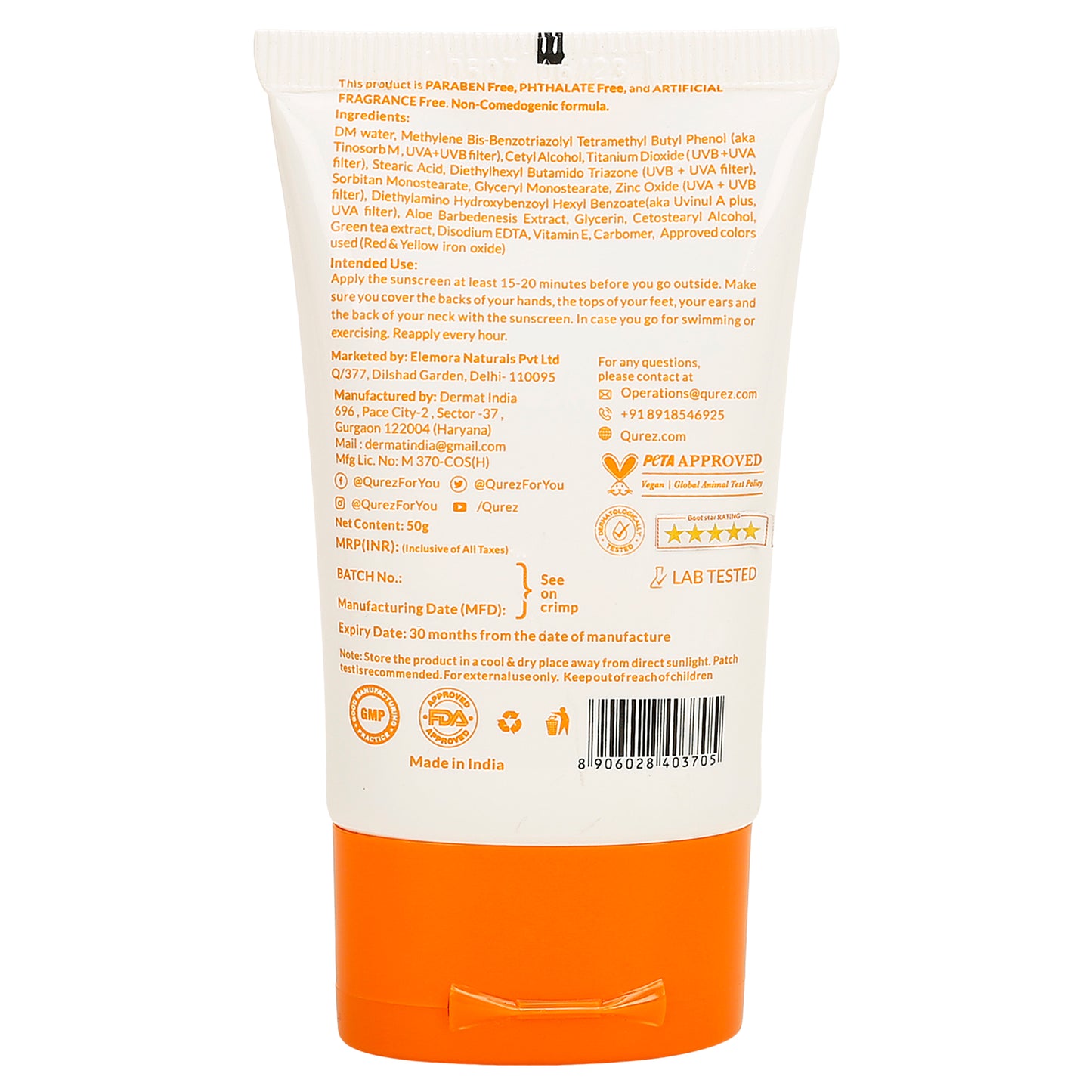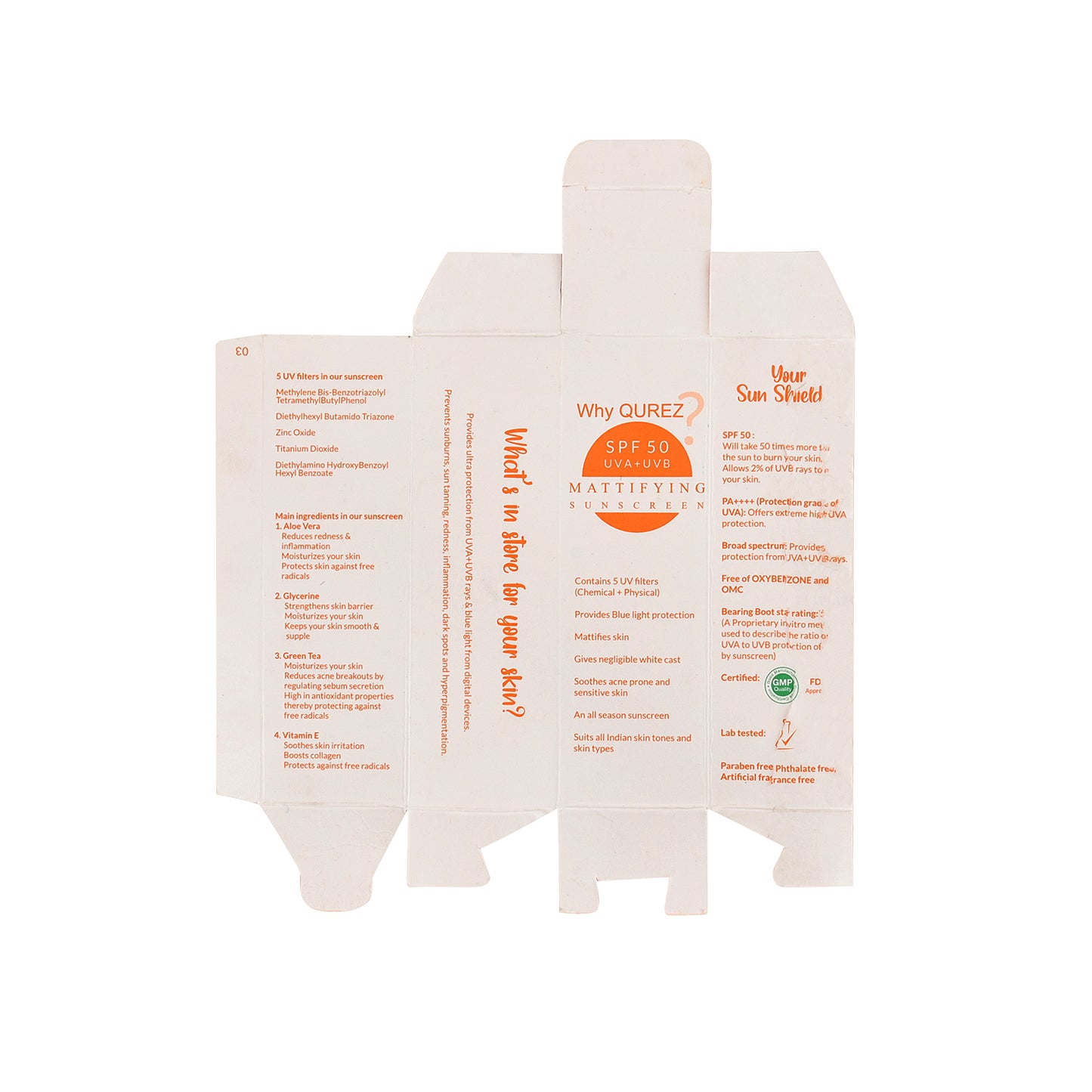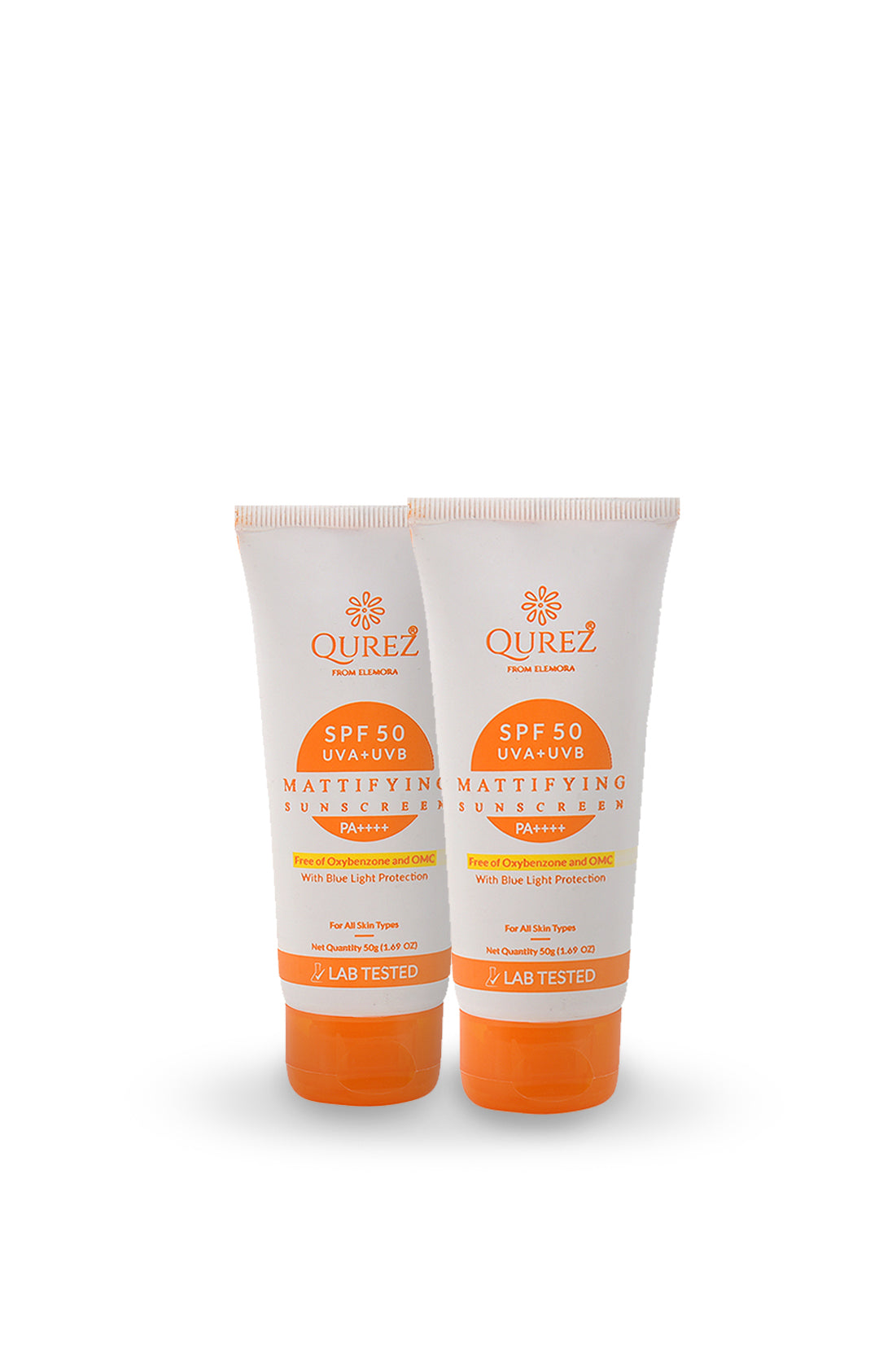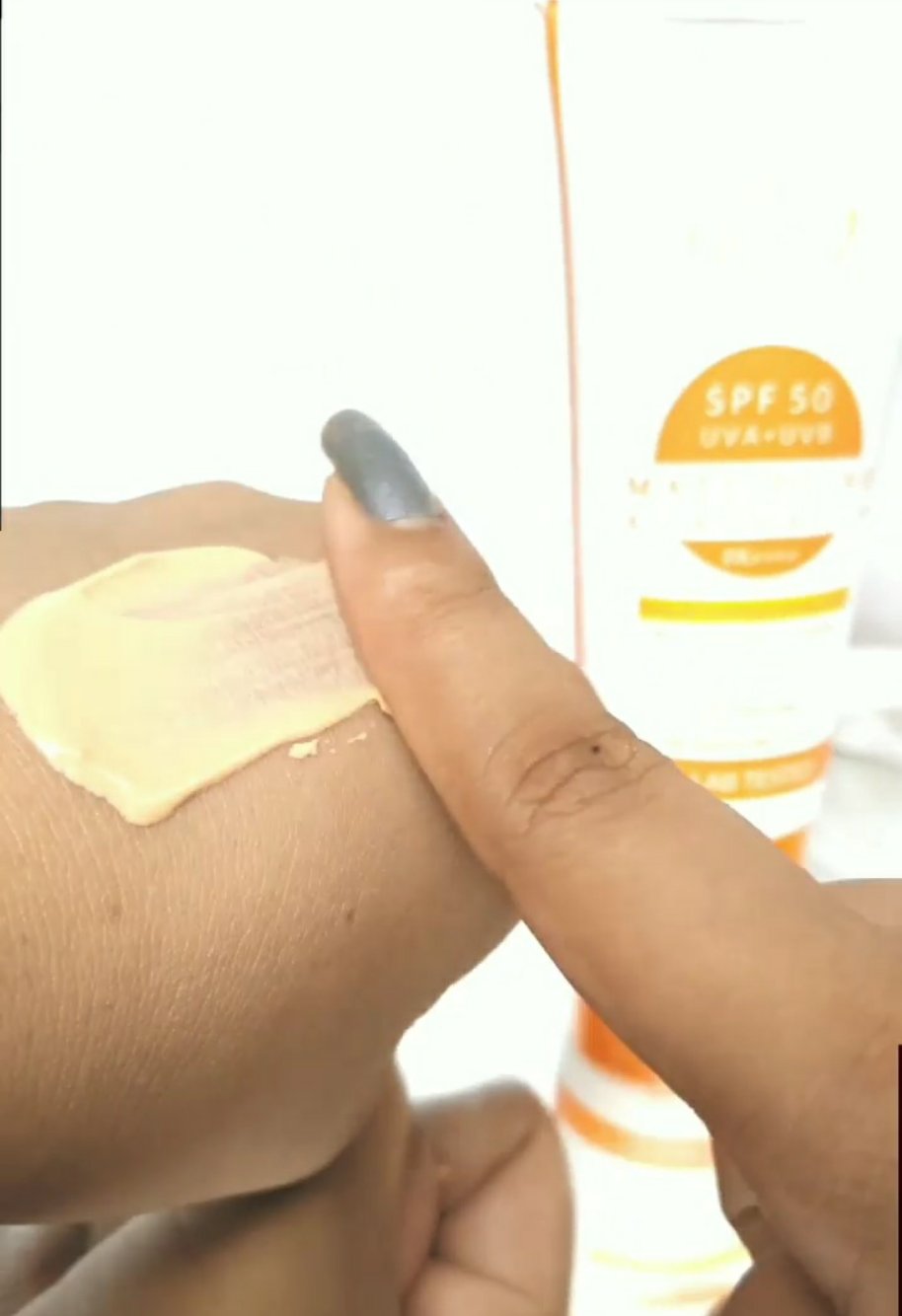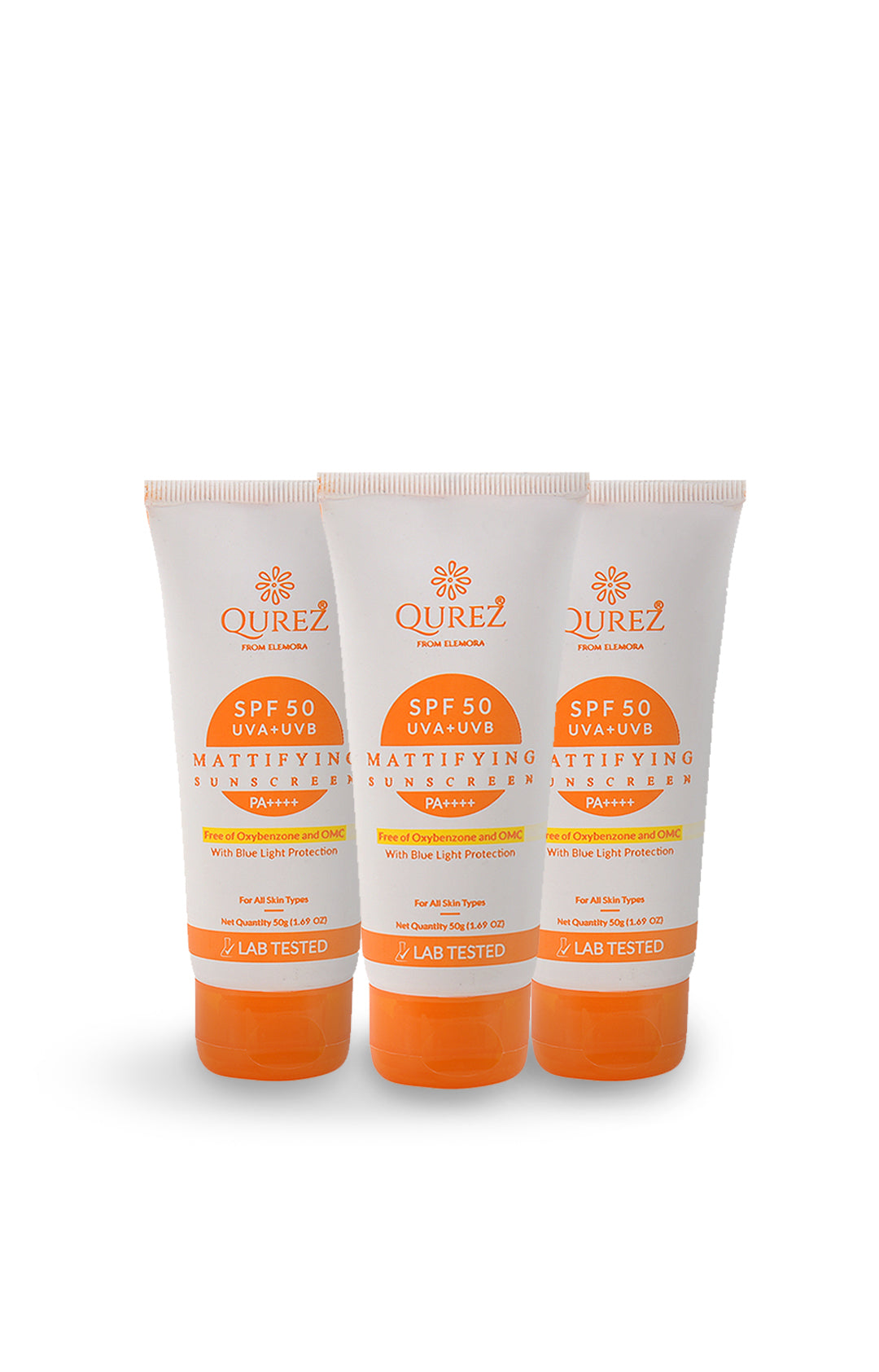 What our customers say
found this to be the best sunscreen

said that there is no white cast

loved how it blends so easily
"I have been in search of a really good sunscreen and it ended in this. It checks all boxes for me - hybrid, no white cast, PA++++(4 plus) . I just love this sunscreen"
Collapsible content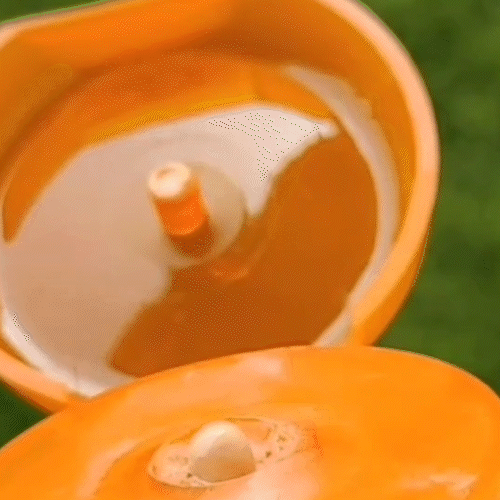 What's in it for my skin

Provides ultra-protection from the UVA+UVB rays
Protects your skin from the blue light emitted by digital devices
Prevents sunburns, sun tanning, redness, and inflammation
Reduces the risk of dark spots and hyperpigmentation
Highlights

Contains 5 UV filters (Chemical + Physical)
Provides Blue light protection
Contains tint that blends well on every skin tones
Lab testes and dermatologically tested
Bears 5 boot star rating
PA++++ grade protection
Lightweight and lotion like texture
Non-comedogenic & Non-greasy
Mattifies skin and keeps skin soft
Soothes acne prone and sensitive skin
All season sunscreen
Suits all skin types
Free of Oxybenzone and OMC
Artificial fragrance free. Phthalate free. Paraben free
100% Vegan. Cruelty Free. Made in Indi
FDA approved. GMP certified.
Collapsible content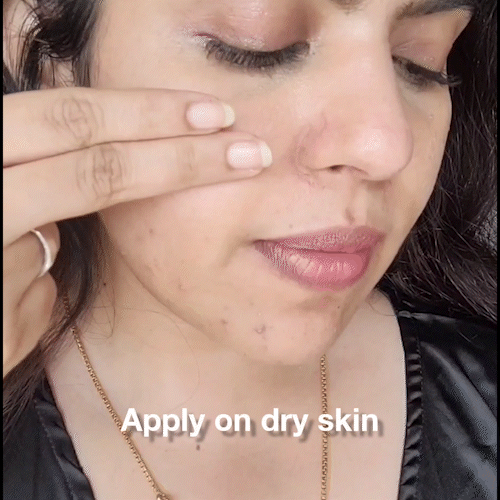 How Do I use it

For the first application of SPF-

Cleanse your skin thoroughly for 60 seconds.
Apply the sunscreen 10–15 minutes before going outside.
Cover the backs of your hand, your feet, your ears and back of your neck.
To be reapplied every hour if swimming or exercising. (*Cleanse the first application of sunscreen to reapply)
Product Description

If you've been looking out for a tinted sunscreen that gives high UVA+UVB protection while also leaving zero white cast and the tint suiting your skin tone, our Tinted Hybrid Mattifying Sunscreen SPF 50 PA++++ with Blue Light Protection is your answer. And do you fear a tinted sunscreen making your skin look orange-ish? Well, our tinted sunscreen won't do that since our formula contains a universal tint that suits all Indian skin tones!




The sunscreen also provides Blue Light protection from e-devices. But if you think why do you need it, then it is because our daily screen time statistically increasing which makes us spend more time behind the screens has made our skin get exposed to the blue light which is harmful to skin over a long period of time. Our skin experiences oxidative stress from the blue light emitted via the digital devices. They act as stressors to the skin, causing photo-aging with increased pigmentation, resulting in hyperpigmentation or worsening melasma.




This Oxybenzone-Free & OMC-Free sunscreen is formulated with ingredients such as Aloe Vera, Glycerine, Green Tea, Vitamin E along with 5 UV filters, both physical and chemical, to protect your skin from the UVA & UVB radiation and Blue Light. The sunscreen is formulated to provide ultra protection indoors as well as outdoors and suits all skin types.




It contains no silicone & artificial fragrance, soothes acne-prone and sensitive skin. The smooth formula is easy to apply and gives a mattifying yet moisturizing finish. It is FDA approved, GMP certified, lab tested and bears 5 Boot Star Rating.
Collapsible content
Why Oxybozone and OMC Free?

Oxybenzone and OMC contribute to coral bleaching because it is "a skeletal endocrine disruptor".  Studies have shown that they also damage the DNA of young coral reefs and disrupts their normal growth and development.

Various research have found that Oxybenzone and OMC cause hormone disruption in humans, affecting estrogen production particularly in women and testosterone production in men.

Qurez takes your safety as our priority, we don't use toxic chemicals like oxybenzone and OMC in our formulas. And always look for alternatives which are good for you and the environment.
Star Ingredients

Aloe Vera
Reduces redness & inflammation
Moisturizes your skin
Protects skin against sun burns

Glycerine
Strengthens skin barrier
Keeps your skin smooth & supple

Green Tea
Moisturizes your skin
Reduces acne breakouts by regulating sebum secretion
Rich in antioxidant properties and protects skin against free radicals

Vitamin E
Soothes skin irritation
Boosts collagen in the skin
Rich in anti-inflammatory & antioxidant properties

Multiple UVA & UVB filters
Provides high grade protection from UVA+UVB rays and Blue Light from e-devices.
Allows only 2% of UVB rays to hit your skin.
Takes 50 times more time for the sun to burn your skin"
Full Ingredients List

DM water, Methylene Bis-Benzotriazolyl Tetramethyl Butyl Phenol (aka Tinosorb M, UVA+UVB filter), Cetyl Alcohol, Titanium Dioxide (UVB +UVA filter), Stearic Acid, Diethylhexyl Butamido Triazone (UVB + UVA filter), Sorbitan Monostearate, Glyceryl Monostearate, Zinc Oxide (UVA + UVB filter), Diethylamino Hydroxybenzoyl Hexyl Benzoate(aka Uvinul A plus, UVA filter), Aloe Barbedenesis Extract, Glycerin, Cetostearyl Alcohol, Green tea extract, DisodiumEDTA, VitaminE, Carbomer, Approved colors used(Red & Yellow iron oxide)


Filters used and Percentages :

Methylene Bis-Benzotriazolyl TetramethylButylPhenol (UVB + UVA filter)- 7%
Zinc Oxide (UVA + UVB filter) - 7%
Titanium Dioxide ( UVA + UVB filter) - 6%
Diethylhexyl Butamido Triazone (UVB + UVA filter) - 2%
Diethylamino HydroxyBenzoyl Hexyl Benzoate (UVA filter) - 2%
Let customers speak for us
No White Cast & Sweat Free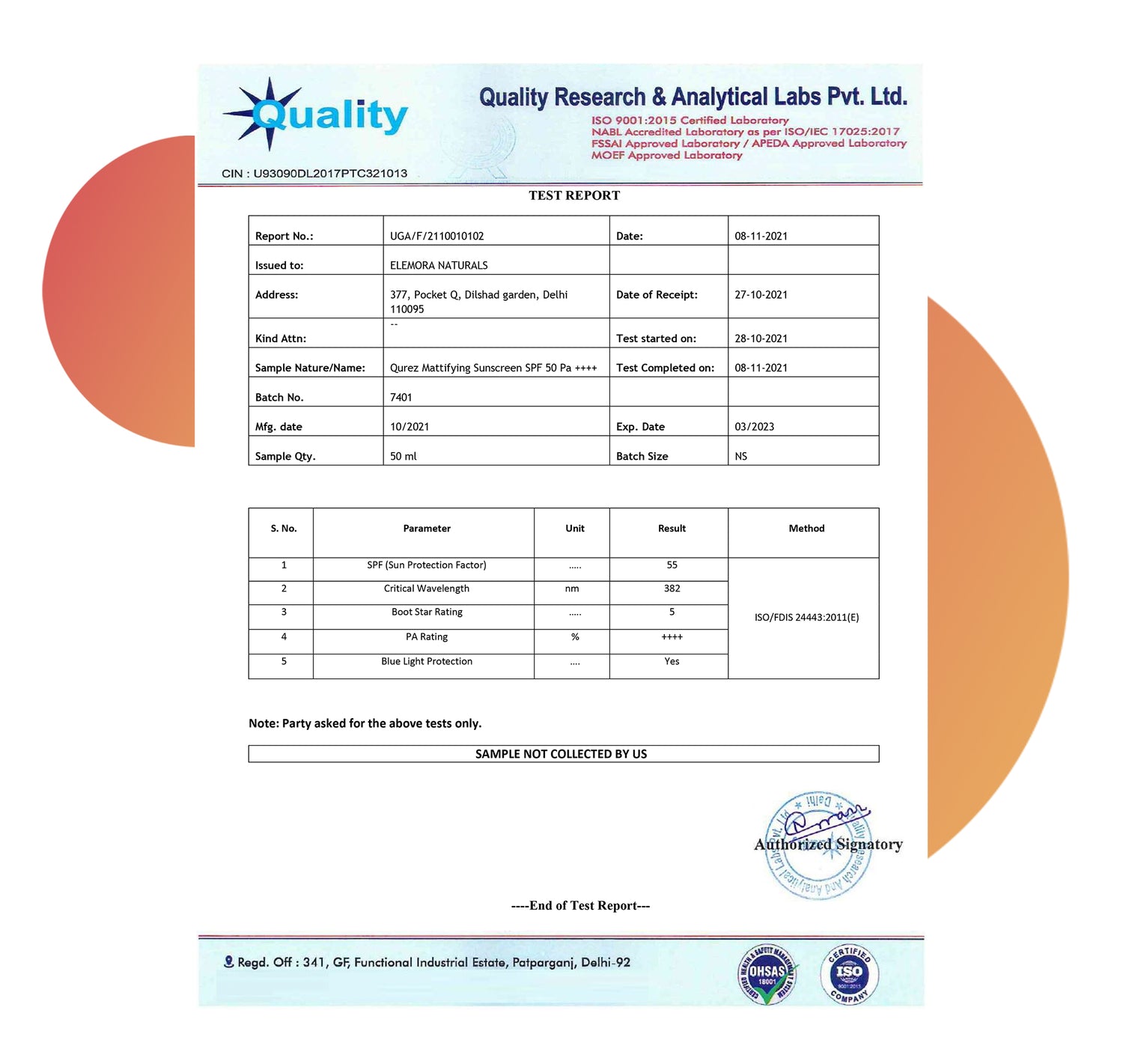 Lab Tested
1.SPF 55
2. Critical Wavelength 382 nm
3. Boot Star Rating 5
4. PA Rating ++++
5. Blue Light Protection - Yes
Holy grail product
Good suncreen .it's my 5th tube.
Fabulous product
Personally i loved it.
My sister recommended me the product because i travel in bike under sun lot. So when i use this product it protect me from sunlight.
Amazing product
I loved it ...not sure on how far it does protect the skin from uva and uvb but the texture and the way it blends is really good ...thanks qurez ...it's by frist sunscreen with multiple purchases.
Mattifying tinted sunscreen
Your sunscreen is incredible, I don't have words. It's amazing, The blending of the sunscreen is so good .
Anyone looking for a sunscreen should definitely try out the Mattifying Tinted Sunscreen from Qurez.you can also check out my insta page @thatplumgloss for detailed review 🎀✨️
Thanks team qurez 👍🏻💌
Loved this sunscreen..became one of my favourites. It feels sticky after applying but eventually blends into the skin with no time. Loved it😊